Cornell-Dubilier Snap-In Capacitors
Product Announcement from Allied Electronics, Inc.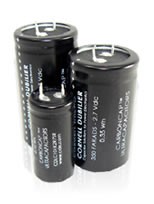 Can be Rapidly Charged
The CDHC Snap–In Hybrid Carboncap Power Ultracapacitors are designed for board–mountable power back–up applications. The best applications for this type of ultracapacitor include those with low power, low energy, and low charge⁄discharge cycle rates. The main feature of these ultracapacitors is the ability to be rapidly charged (preferably followed by a slow discharge).
Features
Rapid charge
Circuit board mountable
Standard snap–in design
---