Profile Home
Supplier:
ACS Valves
About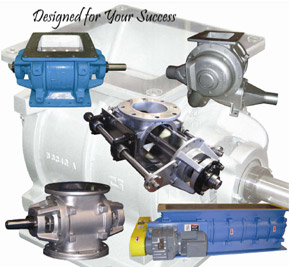 ACS Valves is a family owned and operated business. We are proud to offer our customers outstanding customer service and innovative quality valves at completive prices.
ACS' experience with rotary valves and feeders originated from the founder Tom Thompson, Tom Thompson is CEO and President of ACS Valves and has over 45 years of experience alone in designing and manufacturing pneumatic conveying systems and bulk material handling systems. Early on, rotary valves seem to be our forte, so ACS began the journey to becoming the #1 Rotary Airlock Supplier. Through expanding our rotary valve product line over the years through research and development we now have 14 different rotary valve models with 40 different options.
Tom has passed down his experience to the 2nd generation of Thompson's, Megan & Greg who together have a combined application experience of more than 35 years. Megan is Vice President of Marketing and Sales and Greg is Vice President of Engineering & Production and both are focused on providing our customers with quality valves at competitive prices.
We are proud to say everyone at ACS is in sales; every contact with ACS will be met with friendly people that are easy to do business with. Access to our sales department by phone or email will be quick and responsive. Our quality products is what we take pride in. Our after service sales support is attentive and understanding to our customers' needs and issues. However we do love to laugh and believe that a positive an optimistic attitude goes along way.
Our knowledgeable and friendly inside sales staff will be happy to help select the right valve for your application. If you have any questions please do not hesitate to contact our Inside Sales Coordinators. Our administrative departments will be happy to answer any of your questions from freight costs to the status of your order.
Our Engineering department will provide you our customer with technical details such as approval drawings, aid in custom fabrication and technical support.
Our Production Staff at ACS work smart and are dedicated to ensuring quality valves ship on time!
We have exclusive representation all throughout the United States and we are proud to say we have the best reps in the business!
ACS Valves is also listed in these categories:
Technical Articles


ACS Deconstructs Deflagration
(Valves)
Deflagration is a form of combustion that occurs when a heat source moves over and ignites cold materials (i.e. combustible dusts), creating a very fast moving fire. Deflagration fires are very... (
View Full Article
)