Profile Home
Supplier:
Associated Research, Inc.

About

Associated Research, an ISO 9001 registered company, has been the leader in the electrical safety compliance testing industry for over 70 years! Today, Associated Research offers a complete product line of electrical safety compliance testers. Included in their product offering are AC Hipot, DC Hipot, Insulation Resistance, Ground Bond, Functional Run, Line Leakage testers, and Multi-Function Electrical Safety Compliance Analyzers.
Associated Research has made the commitment to have their entire standard line of instruments safety agency listed and they are the only company to have multiple products both C-UL-US and TÜV-GS safety agency listed. They also hold more US patents than any other company in the industry.
| | |
| --- | --- |
| As an industry leader, Associated Research has made the commitment to provide innovative and advanced instruments for electrical safety testing backed by the most comprehensive service and support available. Their service and support is unmatched in the industry. They offer product warranties up to five years, guaranteed 24 hour shipping on all standard models, and even an unconditional, no questions asked 45 day return policy. Furthermore, Associated Research offers an ISO 17025 Accredited Calibration service. | |
Additionally, they provide a wide range of technical and educational documents to help manufacturers perform their tests safely and efficiently. This includes online webinars and even private training. With a combined focus on product innovation and customer support Associated Research continues to lead the industry.
Technology incorporated into Associated Research Testers: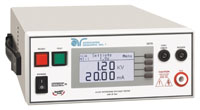 Ethernet, GPIB, and RS-232 automation interfaces
Enhanced Graphic LCD and simplified user interface
Patented SmartGFI® safety circuit
Patented Built-in CAL-ALERT® feature
Patented VERI-CHEK® feature
An Exclusive prompt and hold function
Patented CHARGE-LO and RAMP-HI features

Product Catalog
Technical Articles

An Explanation of Fail Verification
(Electrical Testing Equipment)
Fail Verification is a system used to confirm that an electrical safety tester is functioning properly and will detect failures in the Device Under Test (DUT). There may be more familiarity with the... (
View Full Article
)