Profile Home
Supplier:
Church & Dwight, Inc. Specialty Products Division
About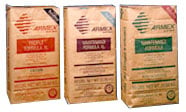 ARMEX® Cleaning and Coating Removal Systems is the industry's leading baking soda-based abrasive technology. Use it to remove coatings and contaminants without damage or distortion to a wide variety of substrates, including metal, wood, stone, carbon fiber, even glass. ARMEX® is delivered using either compressed air or water.
ARMEX® has a network of authorized distributors worldwide that sell portable and contained soda-blasting equipment systems, parts and accessories as well as the full line of ARMEX® Blast Media Formulas. Soda-blasting distributors can be found here.
Technical Articles