About
Gorman-Rupp Industries: Since 1953, Not Just Pumps, Pumping Solutions
Gorman-Rupp Industries (GRI) is a manufacturer of high quality pumps for the Original Equipment Market.
OEM Focused:
Since 1953, Gorman-Rupp Industries has continued to solve unique fluid pumping problems for OEMs throughout the world. GRI's reputation and success have been built on innovative designs, customer service, and providing products to meet the exact specifications of their customers. Rather than meeting the broad general needs of a market, GRI's focus has been on meeting the needs of a single customer. Most of the company's products were originally designed for one specific customer then expanded to meet the needs of similar applications.
Company Commitment:
GRI is committed to the development and research of emerging technologies in a continuing effort to offer their customers the best solutions while meeting tight budget requirements.
Company Goal:
Gorman-Rupp Industries' goal is to meet the customer's unique needs. Whether it is modifying a current product or designing a new pump according to exact specifications, GRI's technical sales staff and engineering department are uniquely structured to quickly evaluate an application and create a solution specific to the OEM's pumping requirements.

Core Competencies:
For 57 years GRI's ability to solve the world's pumping problems and offer solutions has created a technical knowledge base that gives the company a competitive advantage over their competitors. GRI's engineering staff, made up of many different backgrounds and experiences, utilizes this knowledge base and work backgrounds to develop and offer unique ideas and designs to OEMs worldwide. GRI's history and engineering staff, coupled with a seasoned technical sales team and manufacturing department formulates GRI's core competencies.
Markets Served:
OEMs in a wide range of industries rely on GRI for pumps and related equipment used in highly diverse applications. As the needs of the markets change, GRI stands ready with the technology, engineering expertise and manufacturing capability necessary to meet these challenges and provide superior pumping solutions to help move the markets into the future.
Medical:
GRI's custom OEM designs, polymer components that offer superior chemical resistance, accuracy and contamination-free designs, are successful in applications such as hemodialysis, blood warmers, therapeutic heating and cooling systems, and surgical lasers.

Laboratory:
Accurate, leak-free, chemical-resistant designed pumps are ideal for lab glassware washers, needle and syringe crushers, and water purification.

Food & Beverage:
GRI offers quiet, long life, small-packaged, FDA compliant pumps for applications such as juice dispensers, coffee brewers, ice maker machines, commercial ice machine cleaning systems, ice cream machines, and glass washers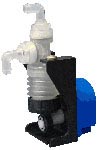 .

Image Reproduction:
GRI has been recognized as a world leader in image reproduction. With leak-free, accurate, long life pumps, GRI pumps are uniquely suited for this industry. Applications include processors, chemical blenders, printing press metering systems, film printers, copiers, x-ray processors, and high-end commercial color printers.
Analytical Instrumentation:
The accurate, chemical resistant pumps that GRI offers in combination with their custom designs makes them ideal for blood analyzing equipment, thermo therapy equipment, sterilizing equipment, and waste removal systems.
Chillers and Coolers:
Compact, quiet, leak-free designed pumps are ideal for laser cooling, laser welding machine cooling systems, and heat exchangers

.
Industrial:
The long life, durability, high-pressures and particulate-handling capabilities of GRI's pumps can endure applications such as floor scrubbers, street scrubbers, and soap dispensers.
Automotive & RV:
GRI offers compact, lightweight, long-life, hydraulically efficient pumps that can handle higher temperatures for the Automotive and RV market.

Spas, Pools & Aquariums:
Quiet, low thermal transfer, long-life and leak-free performances are ideal for commercial aquariums and pool and spa water treatment systems.

Fuel Cell:
The long-life, leak-free, and quiet design of GRI pumps is suitable for various fuel cell technologies.

HVAC:


GRI's high efficiency, low-energy consuming pumps provide solutions to a "green" environmentally concerned world.

Appliance:
Designed to be non-corrosive and chemically compatible, many of GRI's custom designed pumps can be configured to offer solutions to the many applications in the Appliance Industry.
GRI Products:
All of GRI's pumps are OEM customizable. GRI's goal is to meet their customers' special needs, whether it's modifying a current product or designing a new pump according to exact specifications. The company's technical sales staff and engineering department are uniquely structured to quickly evaluate an application and create a solution specific to the pumping requirements. GRI offers a wide range of pumps and pumping technology as a starting point in developing a custom solution:
Magnetic Drive Pumps
Centrifugal Pumps
Bellows Metering Pumps
Oscillating Pumps
Peristaltic Pumps
Piston Diaphragm Pumps
Gear Pumps

Product Catalog