About
Since 1964, MS Bellows has designed and produced a wide variety of sensitive and accurate pressure responsive elements. Available in edge-welded or nickel deposited, bellows specialties include miniaturization and critical tolerance. MS Bellows combines computer aided engineering, state-of-the-art manufacturing techniques, and over 25 years of bellows experience to provide viable design solutions for your specific bellows application.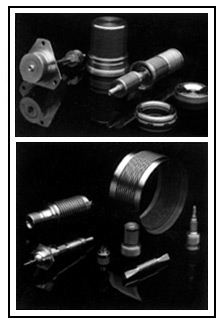 For applications requiring extremely reliable bellows, MS
Bellows will provide:
Highly accurate and detailed engineering drawings to support your
designers in overall envelope requirements from piece-part
components to assembly layouts.
Mechanical design form and functional properties optimized to meet
your exact design requirement.
Expertise in diverse assembly techniques to facilitate the integration
of a bellows into your system.

Standard Sizes From .040" to 4" O.D.
Short Run Prototype and Large Scale Production Capabilities
Diverse Application Range Includes:


Pressure & Temperature Sensor
Flexible Shaft Couplings
Mechanical Seal
Edge Welded Bellows
Advanced engineering and design capabilities allow MS Bellows to manufacture edge welded bellows for a variety of critical reliability applications.
Using the latest manufacturing techniques and stringent process control, zero defect quality is maintained at a competitive price.
Their experienced engineering staff is always available to provide design assistance and recommendations.
Nickel Plated Bellows
The need for greater precision in mechanical components has led to the development of high tensile properties in deposition alloys for use as a bellows material.
The MS-Deposition process produces a high density, high strength alloy with excellent spring properties.
Ideal for demanding bellows applications, plated bellows permit a wide design latitude due to a variety of flexible configurations.
Each bellows is engineered and manufactured to the highest standards of quality and reliability.
MS Bellows continues to be at the leading edge of deposited bellows technology.

Custom Products