Profile Home
Supplier:
Measurement Computing

About

MEASURE EVERYTHING.
They do more than sell DAQ products – they design innovative solutions to meet the worldwide challenges of engineers, scientists, OEMs, technicians, and students. Measurement Computing's latest products include DAQFlex modules and their new Advanced Measurement Products. USB based DAQFlex modules feature a text-based programming protocol compatible with Windows or Linux. Advanced Measurement Products feature Ethernet-based hardware combined with all-new Encore software and include integrated signal conditioning for strain, temperature, or voltage.
THE VALUE LEADER.
Pricing alone doesn't make you the value leader in the DAQ industry. For 20 years Measurement Computing has offered quality DAQ solutions that are not only priced right, but are engineered to exceed the needs and expectations of their customers.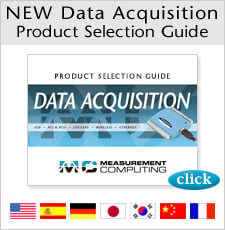 SOFTWARE.
Software can be one of the most important components of any DAQ or control system. Offering the flexibility to match your preferences, each MCC product includes multiple software interface options. Out-of-the-box TracerDAQ® software offers a quick and easy way to log and display data, while drivers for DASYLab® and NI LabVIEW® provide even more functionality and application customization possibilities. For programmers, they include comprehensive support for most programming languages.
SUPPORT.
To demonstrate their commitment to your success, every MCC product includes free technical support from qualified application engineers with no service contracts.

Product Catalog
Technical Articles