About
Thermal Solutions for Overheating Electronics
Noren Products Inc. has been solving thermal problems for over forty years. In that time we've designed and manufactured countless products for our clients that not only do the job, but exceeded all expectations.
Our heat pipe technology is second to none with more diversity and adaptability than any other in our industry. Noren Products heat exchangers are built with this same heat pipe technology, enabling the end user to remove waste heat from their electrical components within a sealed enclosure without allowing harmful contaminants to enter the panel.
Our products are applicable to a wide range of industries including Waste Water Treatment, Telecommunications and Radar, Injection Molding, Oil and Natural Gas, Food and Beverage, and many more.
One of the points that we are most proud of is our products are designed and manufactured in the United States by hard working men and women - for hard working men and women.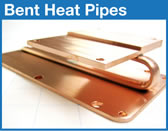 Heat Pipes
To better solve your thermal removal requirements, Noren Products' heat pipes offer the unique ability to achieve different bends, planes and dimensions within designs. We are able to create solutions with multiple angles and planes, all while maintaining the heat transfer needed for your custom application.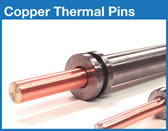 Thermal Pins
Thermal Pins are high temperature heat pipes and are used in a variety of molding equipment - injection molding, blow molding, extrusion molding and thermal form molding industries.