Profile Home
About
Thousands of Stock Components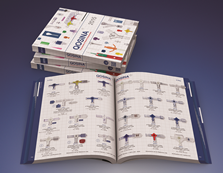 Qosina is a leading global supplier of thousands of stock components to the medical OEM and pharmaceutical industries, offering free samples, low minimums, and Just-in-Time (JIT) delivery.
Companies purchase from Qosina to eliminate tooling costs and receive immediate delivery from our inventory. Qosina will save you time and money by providing in-stock solutions from our ISO 9001, ISO 14001, and ISO 13485 registered facility (copies of our certificates). Sourcing requests are welcome for tool modifications, hard to find items, subassemblies or tubing to meet your specifications. Request your copy of our catalog with full-scale illustrations on a one-centimeter grid or visit qosina.com to view our extensive product line.
Whether you need molded or extruded components, high value plastic or metal, sub-assemblies or packaging, we invite you to talk to our customer service or product development teams. Purchasing from Qosina will save time and money by providing you with in-stock solutions based on the specific needs of your project. Orders and sample requests are processed the same day. We can modify any existing component to meet your needs or build new tooling to meet your exact requirements.
Our Services
Comprehensive print and online catalogs
On-hand inventory of 5000+ SKUs
Low minimum orders
Free samples of most items
Supply chain management
Ecommerce website to request samples and place orders
High Volume Pricing available
Modification of existing tools
New product design and development
Meet us at over 20 Trade Shows both Domestic and International
Our Qosmedix® subsidiary serves the cosmetic, skin care and spa industries
Featured Categories: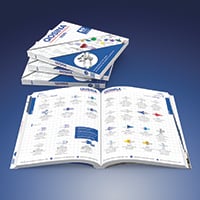 Clamps

Qosina offers Clamps in an assortment of size, color, and style. In stock and off the shelf, disposable Clamps include Closure Clamps, Hose Clamps, Pinch Clamps, Roller Clamps, Slide Clamps, and Towel Clamps. Available in an array of sizes, Clamps will fit tubing dimensions ranging from 0.059 inch OD to 1.5 inch OD. Material selection consists of polyacetal, polypropylene, polycarbonate, and other high quality plastics for safe and secure use. For easy differentiation, clamps are manufactured in wide variety of colors. Qosina also carries Catheter Clamps, Flow Control Clamps, and non-reopening clamps in range of size and color. Clamp sample kits contain different examples from our catalog and can be purchased for design and testing.
Connectors

Tubing Connectors are available from Qosina in a vast selection of materials, sizes and styles including straight, elbow, T, Y, with luers (male and female with rotating spin locks), barbs, or UNF Thread. Our inventory also includes a comprehensive selection of plastisol connectors which are flexible and have multiple Inner Diameters. Connector sample kits contain different examples from our catalog and can be purchased for design and testing.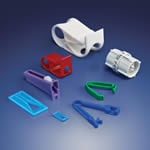 Bioprocessing Components

Single Use Bioprocessing Components lower production costs, decrease time to market and reduce the risk of cross contamination. Our patented flow path components include polypropylene barbed flanges with a platinum cured, medical grade silicone gasket mechanically attached to the fitting face. Bioclamps™ are a patented tri-clamp with a quick release, providing an easy assembly and secure connection between our barbed flanges and polypropylene BioEnd Caps™ BioEnd Caps are designed to permanently terminate a disposable manifold until an in-process new sterile connection is made. To control the fluid flow rate, use Biovalves™ which can be easily added to preassembled systems without cutting tubing lines. All Qosina bioprocessing components are made from Class VI compliant materials.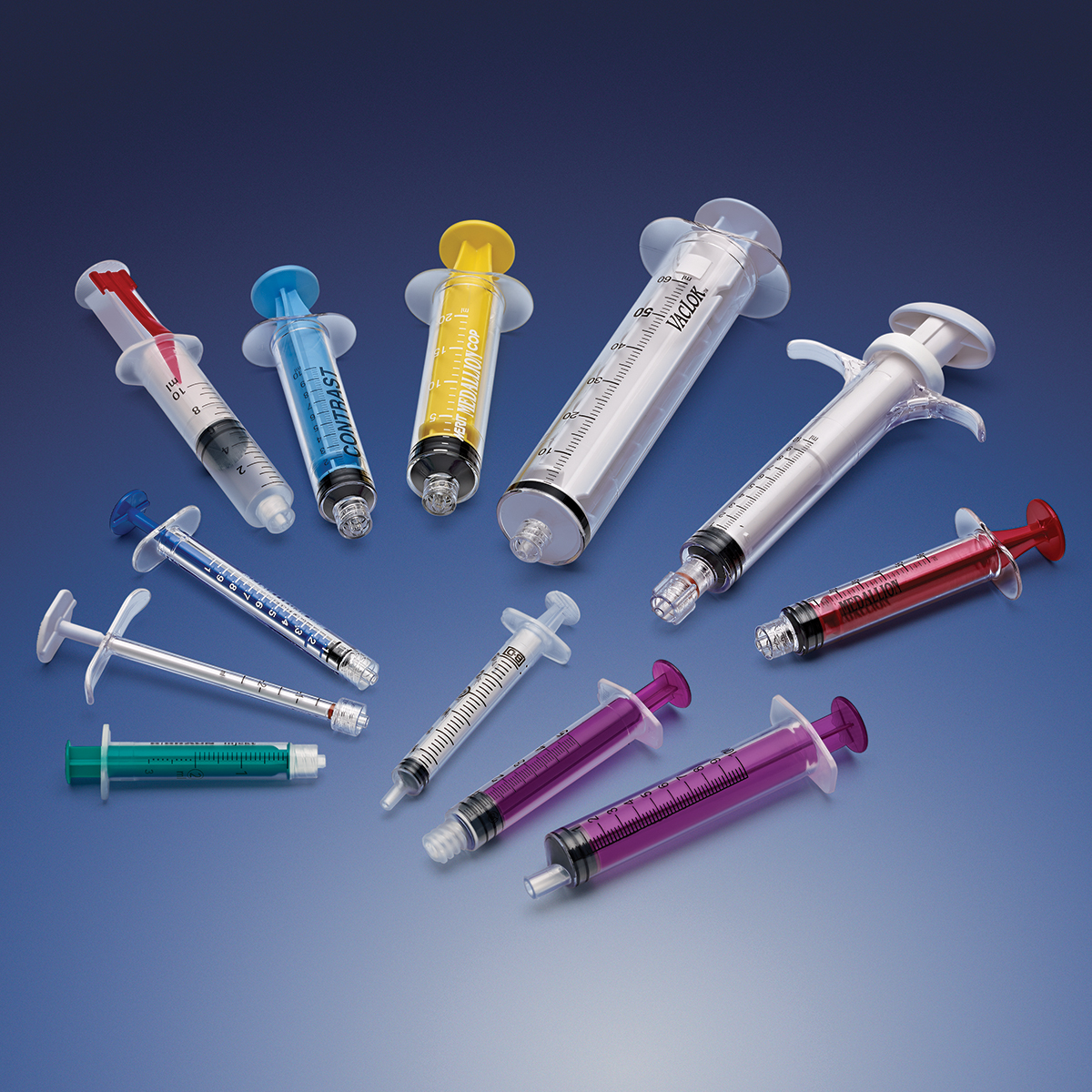 Syringes

Qosina is a comprehensive source of bulk, non-sterile syringes, in stock and ready to ship, in a variety of materials, sizes, grips, and colors. The extensive offering consists of standard syringes, control syringes for regulating fluid, open ended syringes for viscous fluids and more. They offer various tip styles, including male and female luer locks, rotating male luer locks, male luer slips, catheter tips, curved tips, and eccentric tips for applications such as dispensing, irrigation, loss of resistance, negative pressure and more. Qosina is also a distributor of genuine BD™, Monoject™, Medallion™ and VacLok™ syringes. In addition, the Qosina Catalog presents a wide variety of syringe accessories such as caps, dispensing tips, finger grips, handling blocks, and sheaths.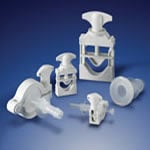 Luers

Qosina is world renowned for having the largest selection of luer connectors including female luer locks, male luer locks, and male luer slips and metal luer tubing connector configurations. View our male to male luers, male to female, female to female, high pressure luers, luers with break off tips, luers with spin locks to prevent tubing crimps, barbed tubing connectors with female luer locks, male luer locks or male luer slips, and pre-assembled extension lines. Luer sample kits contain different examples from our catalog and can be purchased for design and testing.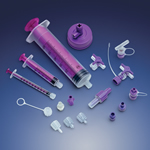 ENFit™ Connectors

Qosina offers a wide variety of ENFit™ male and female connectors, caps, stepped adapters, Y connectors, stopcocks and syringes, as well as the ENFit to ENLock adapters, ENPlus cross spikes and universal bottle adapters for the ENPlus cross spike. All ENFit™ components are available for immediate delivery.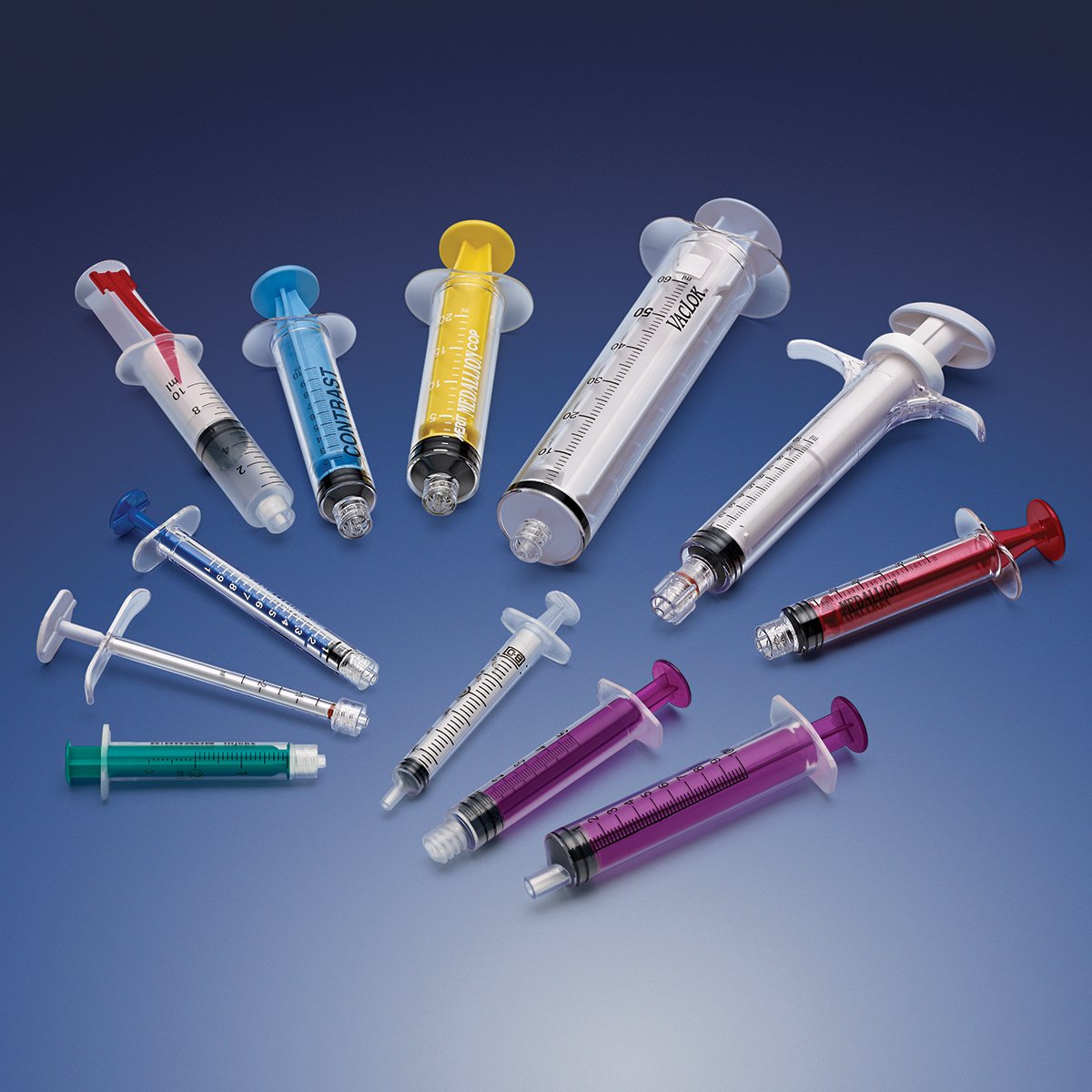 Check Valves

Check valves are pressure activated to prevent backflow. Choose our one-way, dual(with male, female and tubing ports), luer activated, duckbill, or relief check valves to meet your requirements. A check valve sample kit contains different examples from our catalog and can be purchased for design and testing.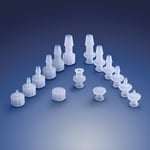 Hemostasis Valves & Tuohy Borst Adapters

Qosina offers a large selection of hemostasis valves and tuohy borst adapters which provide a seal for secure positioning and prevent backflow. Hemostasis valves also feature a side port with a female luer lock for easy attachment of a secondary line. Many sizes are available; up to 10 French for our hemostasis valves and up to 18 French for our tuohy borst adapters.

Qosina also offers many other kit components including stopcocks, extension lines, scalpels, guide wire accessories, and angiographic needles. A Tuohy Borst Sample Kit and a Tuohy Borst Component Assortment Kit that contain different examples from our catalog can be purchased for design and testing.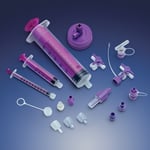 Stopcocks

Stopcocks are offered in 1, 2, 3, and 4-way fluid direction and 2, 3, 4, 5, and 6 gang manifolds. Connections include male luer slip, male luer lock, male luer with spin lock, rotating male luer lock, female luer lock, and tubing ports. Stopcocks are offered in various pressure ratings from 6 psi - 1200 psi. A polycarbonate or polysulfone body provides lumen clarity which helps identify media flow. Ideal for testing, medical stopcock sample kits are available for purchase; containing various configurations, pressure ratings, handle rotations, and colors.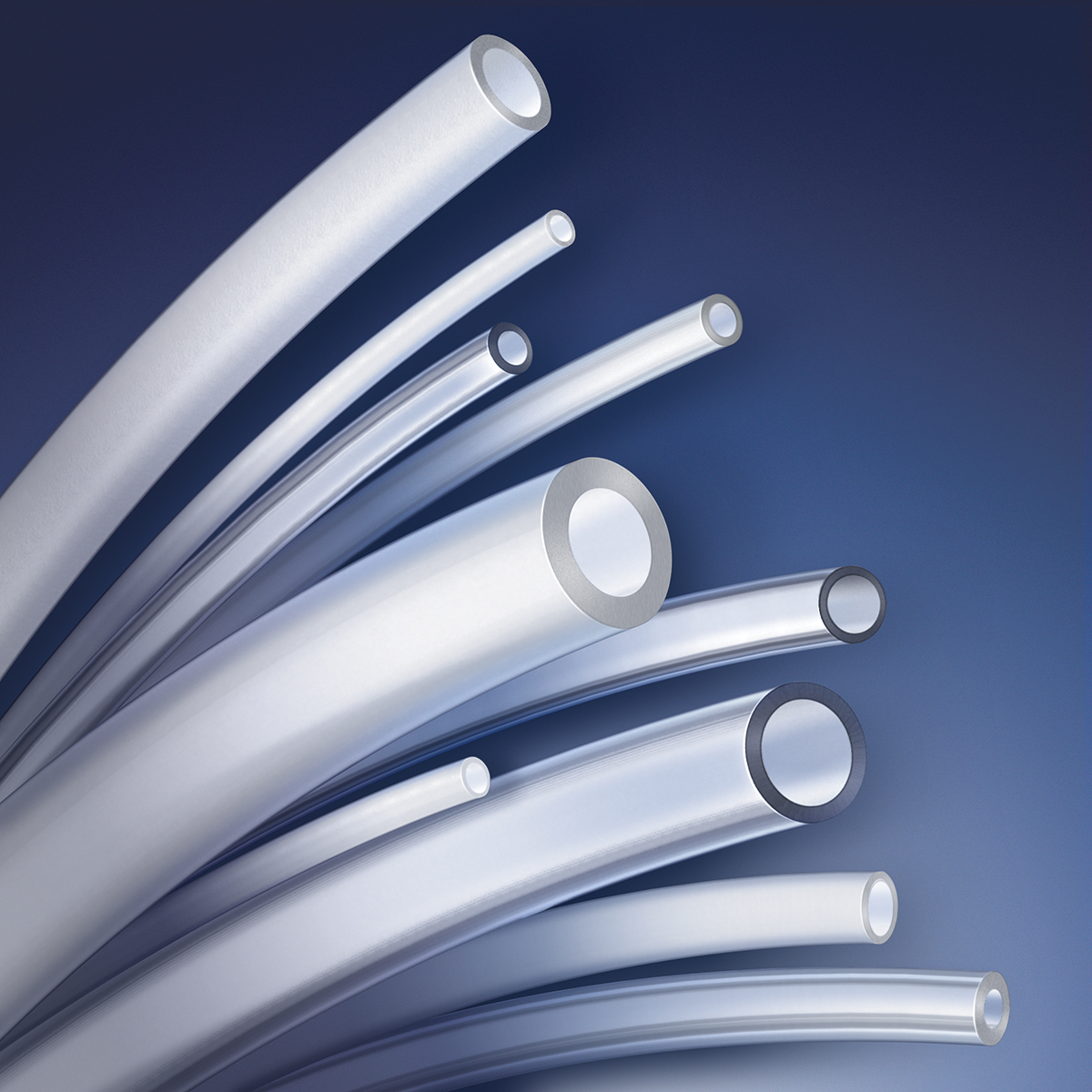 Tubing

Available in high value plastics (PVC, DEHP-free PVC, C-Flex™, Tygon™, Pharmafluor®, Peroxide or Platinum Cured Silicone and Polyethylene); Qosina provides tubing solutions for many industries. We offer Single Lumen, Multilayer and Coiled tubing. Customizable options include diameter, durometer, length, color, lumens, striping, printing and packaging. Qosina also maintains pre-assembled extension lines to speed your design. A tubing sample kit contains different examples from our catalog and can be purchased for design and testing.
Tools

Tools are available in the form of forceps, tweezers, scissors, and safety scalpels. Forceps are offered in styles including locking, adson, iris, serrated dressing, needle holder, and transfer. Tweezers and scissors are available in a variety of sizes, colors, materials, and finishes. Scalpels have been designed for easy one-handed activation available in a variety of blade sizes.
Applicators, Swabs & Brushes

Swabs are available in a variety of sizes and styles. Brushes and applicators are ideal for applying product or liquids in broad or precision strokes. Applicators are available in a variety of styles such as brushes, foam tip, spatulas, sponge on a stick, winged sponges, cotton and specialty swabs. Brushes are equipped with a variety of handles, head shapes, and materials. Foam tip applicators are offered for applying product to either large or small areas, they range from 2.75 inch (70 mm) - 7.5 inch (191 mm). Spatulas are available in wood, polystyrene, polyethylene, and polypropylene, and variety of styles from "S" shaped, boomerang, angled, large head, tapered, spade, tongue depressor, dual ended, and shovel. In addition, swab sample kits are available for purchase and contain a selection from our catalog
Call one of our Customer Specialists and experience our unparalleled customer service. Prompt and efficient service is the heart of Qosina's business. Request samples, place orders, discuss your project or source components that do not currently appear in the Qosina Catalog.
Custom Sourcing requests are welcome for tool modifications, hard to find items, subassemblies or tubing. If you can't find a specific item, give us a description of what you are looking for and we will work to find a rapid solution for your R&D, production or design challenges.
Support your production requirements with Just-In-Time, Kanban style delivery from our ISO 9001, ISO 14001 and ISO 13485 registered 95,000 square foot climate-controlled facility with a Class 100,000 clean room. Place a "blanket" order and let Qosina release your parts according to your schedule as you require them. Invoices are generated at the time of shipment, only for those parts that were shipped. This service cuts inventory levels, shortens production lead times, reduces required manufacturing space and may lead to quantity discounts.
We exhibit at over 20 Trade Shows each year, domestically in the U.S. and internationally in Germany, France, U.K., Ireland, Korea, Japan, and China. Visit us at one of our booths to discuss your project in person and view a selection of parts from our catalog. Please contact us in advance for a Free Pass to one of these events.
Qosina Corp. is listed in these service categories: