About
SlipNOT® Metal Safety Flooring is a women owned: WBENC Certified # 2005108416, NSF Approved and an ISO 9001:2000 Registered company. Their products represent state of the art technology in non-slip surfaces. SlipNOT® slip resistant products can be custom fabricated to any size or shape specified by your job details. Their sales engineers provide innovative safety solutions for the most demanding applications.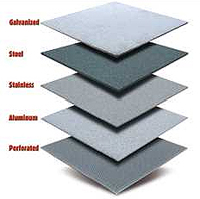 Whether your company is refurbishing existing plants or building new facilities, preventing costly workers compensation claims and slip and fall litigation is every manager's responsibility. SlipNOT® is the one time answer for permanent and durable slip resistant surfaces.
From plate, bar grating, ladder rungs and covers, nosings, stair treads and covers to expanded metal, perforate plate, vault covers, hand rails and road plates; SlipNOT® products do not peel or flake off like other "non-slip" products do. The patented SlipNOT® coating has a bond strength of over 4000 psi. Their slip resistant products are available in steel, stainless steel, aluminum or galvanized steel.
SlipNOT® provides 100% rugged, long lasting surface coverage for all metal substrates. SlipNOT® is the preferred choice for companies such as: Ford Motor Company, Caterpillar, General Motors, Boeing, Campbell Soup, Daimler Chrysler, Kraft, Pacific Gas and Electric, ConEdison, and AT&T among many other Fortune 500 companies for cost effective slip resistant safety products.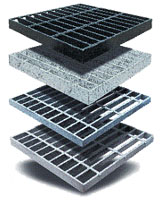 The patented SlipNOT® process deposits molten metal plasma onto steel, aluminum and stainless steel. The resultant super hard, 62 on the Rockwell "C" scale surface provides unparalleled durability and traction in even the most demanding, abrasive and slippery environments.
Since SlipNOT® is an all metal on metal application, SlipNOT® products can be sheared, flame cut, drilled, punched, countersunk, fabricated, welded or otherwise treated like any other metal plate or grating. Whether it is a solution to a dangerously wet or oily area, or is designed into new construction as an assurance for worker and pedestrian safety, SlipNOT® is the permanent answer.
SlipNOT® is the proven answer for safe, productive environments.

Product Catalog
SlipNOT Metal Safety Flooring is listed in these service categories:
Technical Articles

Are You ADA Compliant?
(Building Systems)
July 26, 1990, President George H.W. Bush signs the Americans with Disabilities Act, better know as the ADA. ADA is a wide ranging civil rights law that prohibits individuals with disabilities to be... (
View Full Article
)