Profile Home
Supplier:
Vecoplan, LLC

About
Industrial Shredders and Complete Shredding, Separation, Conveying & Storage Systems for Alternative Fuel & Energy Production, Recycling and Secure Destruction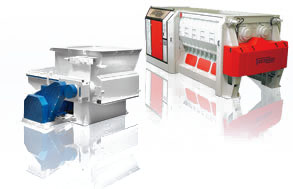 Vecoplan is a leading ISO 9001-certified manufacturer of advanced, industrial shredders and associated systems technology. For over 35 years, Vecoplan has provided customers with innovative shredding, conveying and separation technologies to meet their processing and recycling needs.
Vecoplan, the inventor of the slow speed single-shaft rotary grinder / shredder, offers a vast array of wood grinders, chippers, plastic grinders and granulators. Their paper shredding and recycling equipment is designed to handle bulk material needs with high efficiency. In addition to their mobile and plant based document destruction solutions and waste recycling systems, they offer full turn-key system design and installation.
The design of Vecoplan shredders and related products, particularly the single-shaft shredder, is extremely unique in its universal capability to process a wide range of different waste materials. As such, many different types of companies rely on Vecoplan for their primary and auxiliary shredding and processing machinery. Plastic applications, such as reduction of large extruder purgings, processing entire batches of reject molded parts, shredding extrusion, thermoforming, injection and blow molding trim and flash, plastic film bales, bales of PET bottles, carpet waste, synthetic textile fiber waste, etc. are all processed by the same basic shredder and grinder designs used to process wood scraps, trim blocks, edge rippings, pallets, board scrap, etc.
Dynamic markets require dynamic thinking. The development of future-proof technological solutions for demanding areas such as old timber recycling, files and document destruction, shredding municipal and industrial waste of textiles and the realization of complex tailor-made products are their strength. The latest applications include paper, MSW and C & D Waste. The Vecoplan shredder design is a natural when it comes to secure shredding and document destruction, as well as use for baler prep for signature waste at printers and converters. Leading Refuse Derived Fuel (RDF) producers, Waste-to-Energy (WTE) operations, e-scrap recyclers, compost operations, and Construction and Demolition debris MRFs use Vecoplan equipment for the tough processing jobs!
Preparation, disposal and recycling systems for:
| | | | |
| --- | --- | --- | --- |
| | | | |
| Wood, Old Timber, Biomass, Waste Wood, Sawmill Disposal, Furniture Industry | Municipal Waste, Industrial Waste, Alternative Fuel (RDF), Etc. | Plastic, Film, Fiber Shredding, Etc. | Paper, Files, Document Destruction, Etc. |

Product Catalog
Vecoplan, LLC is listed in these service categories: