Profile Home
Supplier:
Witte Company, Inc. (The)

About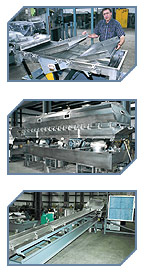 The Witte Company designs and manufactures drying, cooling, screening and related process equipment at its headquarters in Washington, New Jersey. Family-owned and operated since its founding in 1938, Witte has earned a stellar reputation for engineering expertise, craftsmanship and personal service.
Developing innovations in machine design while formulating what has become its signature vertical air flow engineering, Witte has established a track record for operational dependability, earning the trust of Fortune 500 companies worldwide including Kraft, Nabisco, Merck, Roche and Morton. Witte not only guarantees its equipment, but also guarantees the equipment's performance.
The Witte Company understands how to listen. They pay attention to their customers and develop exactly the system that meets their needs - standard or custom. Their customers have said The Witte Company builds the finest equipment of its kind on the market today.

Product Catalog
Technical Articles