Profile Home
Supplier:
Acoustiblok, Inc.

About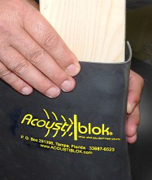 Acoustiblok Soundproofing Material

Acoustiblok is a unique, environmentally friendly sound-proofing material widely used in the United States and throughout the world to provide serious noise control in new and existing commercial, residential, and institutional buildings.

The thin, 1/8-inch sheet material, which is added to a wall before dry walling, is engineered not to stop or absorb sound, as others attempt to do, but to actually transform the sound energy into inaudible friction energy as the material flexes from the sound waves. Just one, 1/8-inch thick layer of Acoustiblok in a standard metal or wood stud wall will result in more sound reduction (and provide more privacy) than 12-inches of poured concrete.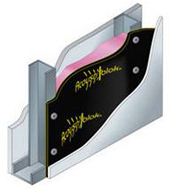 Lahnie Johnson, founder and president of Acoustiblok, Inc., brings more than 35 years experience in the aerospace and audio industries to his Tampa, Florida-based company. Johnson's passion for inventing solutions to acoustical and environmental problems led him to develop Acoustiblok, which is manufactured in the USA. Johnson's commitment to research and development has produced leading-edge noise abatement and energy conservation solutions recognized by the building and construction industry throughout the world.

In 2007 Acoustiblok was awarded the John Connell Award for Technology by the United Kingdom's Noise Abatement Society. Judges hailed Acoustiblok as "A revolutionary step in noise abatement for both the workplace and the home."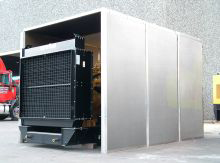 The award was presented at the British House of Commons by Lord Whitty of Camberwell, Department for Environment parliamentary undersecretary who stated, "Tackling noise pollution is a priority for [our] government and also for the public. I believe that we should do all we can to encourage and reward innovative approaches, such as Acoustiblok, to better control noise."

Acoustiblok recently signed a joint, 50-year agreement with a Saudi Arabian plastics manufacturer to produce and market its revolutionary sound-proofing product in Saudi Arabia and throughout the Middle East.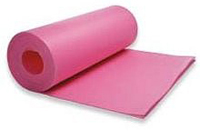 The new joint Saudi Arabian venture, "Acoustiblok Mideast," was launched in March, 2009. Johnson and Acoustiblok USA Vice President Shawn Saathoff were in Riyadh, Saudi Arabia to meet with Arabian Plastics Compound (APC) President Fawaz Z. Al-Kaaki, and owner Prince Hussam Bin Saud Bin Abdul-Aziz to finalize the agreement.

Johnson recognized the potential of the Mideast market after he and Saathoff first visited Saudi Arabia at the invitation of the U.S. Saudi Arabian Business Council and the US Commerce Department two years ago. Acoustiblok is expected to improve the lives of people in Saudi Arabia and the Mid East where privacy is considered a very important part of the culture. Acoustiblok also allows for much lighter wall construction (compared to currently used concrete) which increases the potential height of a building and the speed of construction.

Acoustiblok's modular All Weather Sound Panels are a reliable and economical solution for stopping noise at the source. Available in Standard and "Hurricane" models (tested for wind speeds up to 270 MPH), these modular panels are an ideal solution for noise problems created by HVAC chillers, industrial pumps, wood and metal shop workstations, and many other applications. With a tested NRC of 1.00, All Weather Sound Panels reflect virtually no sound. Acoustiblok sound absorbing material inside the All Weather Sound Panels effectively reduces penetrating, unyielding low frequency noise as well as mid and high range sound.

Acoustical floor and ceiling design presents special problems. Impact noise (footfalls, etc.) is a major factor, and floors must bear large, moving weight loads. Acoustiblok provides both polymer and wool-based underlayment which, combined with Acoustiblok's sound abatement material, enable otherwise conventional assemblies to meet or exceed specifications for both Sound Transmission Class and Impact Insulation Class in typical applications, at a fraction of the cost of floating floors and other methods requiring major design changes.

In addition to Acoustiblok, Johnson developed Thermablok® aerogel insulating material in conjunction with NASA. Considered the highest insulating material known to exist, Thermablok aerogel utilizes the same technology used by NASA in the space shuttle and other space applications.

It is estimated that 40-percent of energy is used controlling the temperature in buildings alone. More than 30-percent of this energy escapes from the building primarily through the conventionally insulated walls and windows in a process termed thermal bridging.

Virtually all new construction uses metal stud walls. On the inside of the metal stud is the drywall and on the outside of the metal stud is wood sheeting. The cavity between the inner and outer layers contains loose fiberglass insulation. In such a wall approximately 62% of its thermal leakage occurs through the cavity section and 38-percent through the metal stud in the thermal bridging process. So, regardless of the improvements in the insulation, in the cavity there is still a 38-percent or greater leakage through the metal stud. If a popular foam insulation is used in the wall instead of fiberglass, the thermal bridging through the metal stud becomes even greater as it dissipates no heat into the cavity.

Aerogel, recently featured on the Science Channel, is expected to be a prime energy conservation component in cities of the future.

Acoustiblok, a pioneer in sound-proofing and thermal technologies for commercial, institutional, and multi-family construction is a member of the AIA, AES, ASA, and CEDIA.

For more information, visit www.acoustiblok.com, call 813-980-1400, or e-mail Acoustiblok.

Product Catalog
Technical Articles