Profile Home
Supplier:
Asahi/America, Inc.

About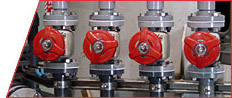 Asahi/America, Inc. ("Asahi"), is a diversified ISO9001 certified manufacturer and distributor of corrosion-resistant fluid flow products. These include a wide variety of thermoplastic valves, actuators, flow meters, tubing systems, and single and double containment piping systems. These products are used for the control, transmission, and containment of corrosive fluids and high-purity liquids, certain flammable gases, and compressed air.
Asahi helped pioneer the market for thermoplastic valves in the United States and Latin America, during a time when there was no viable alternative to metal for piping systems. Asahi began by distributing valves and piping products from a Japanese company known as Asahi Organic Chemical Company ("AOC"). Through increased distributor and end user education and experience, thermoplastics have grown steadily in acceptance. While Asahi still imports a number of products from AOC, the actuators, flow meters, and certain valves are currently manufactured at the 100,000 square foot headquarters in Malden, Massachusetts.
Nationally recognized as a leader in the environmental service industry, Asahi with its Austrian business partner, Agru, have developed and patented pivotal products and systems, which directly address the new requirements mandated by the EPA. Also, within its Clean Room, Asahi utilizes Agru's high purity PVDF and unpigmented, natural polypropylene components to fabricate and test assemblies for R&D and ultra high purity applications. To meet the strictest of manufacturing standards, Asahi maintains its own DI water line and monitors air quality on a continuous basis.
Asahi has one of the industry's largest distributor networks with nearly 500 locations nationally and throughout Latin America. Customers include the world's leading manufacturers in the chemical and petrochemical, mining, pulp and paper, plating, pharmaceutical, food, and semiconductor industries. Additionally, Asahi has developed a strong presence in municipal and industrial water and wastewater treatment, aquariums, landfill recovery, and theme park and cruise ship construction.

Product Catalog
Technical Articles