About
Canon Optoelectronic Components Group, Integrating the Latest Technologies

Rotary
Encoder

Digital
Galvo Sensor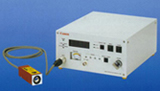 Velocity
Sensor

Compact
Encoder

Micro Laser
Interferometer
Canon has been developing these industrial components since 1986 and has evolved into a World Class Provider with a wide range of applications through out many industries. The ultra high levels of precision and accuracy in these products have maintain Canon's reputation among it's many customers.
Canon's original Light-diffraction interference method is used to manufacture high resolution rotary and linear encoders, optical encoder Galvano scanners, low-cost non-contact Laser Doppler Velocity Sensors , Micro Laser Interferometers and other encoder components , Canon's on going Research and Developed has achieved outstanding control precision by incorporating its high-level control technology through out their product offering.Canon now has a line of products that integrate cutting-edge optical technologies , electronic circuit technologies , laser manufacturing technologies , medical technologies , nano motion-control and super-precision fabrication technologies , meeting the needs of their customers every where from R & D to production lines.
For full Corporate profile, please visit Canon's company web site.

Supplier Directory Categories
Canon USA Encoders/Optoelectronic Components Group is listed in these categories: