About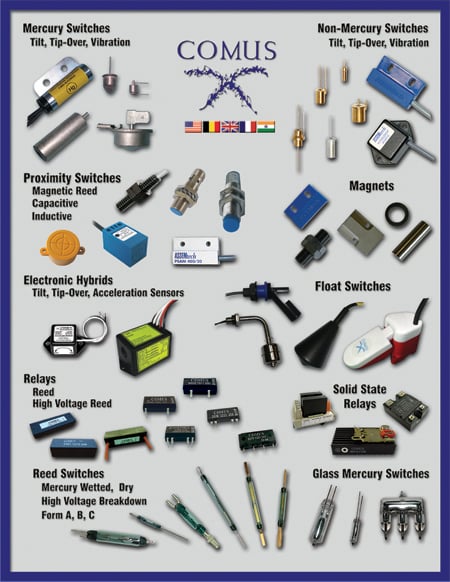 Comus International was founded in June 1978 by Robert P. Romano, President, to manufacture glass mercury tilt-switches. Bob was successful and soon the metal mercury switch and, ultimately, the patented non-mercury switch were developed.
Today, Comus International is a leading manufacturer of tilt and tip-over switches, motion/vibration sensors and float switches, and has an excellent reputation for quality and service. Comus International is based in Clifton, New Jersey, U.S.A.
Comus has become a world leader in the design, development and manufacture of a wide variety of sensors and sensor-related products. Applications are found in such diverse areas as medical equipment, automobiles, steam irons, alarm systems and even the Arch of St. Louis. In time, Comus began to acquire companies with sensor related products. This led to the formation of the Comus Group of Companies, which includes: ASSEMtech Europe Ltd and Active Switch and Sensor in Essex ? England, Comus France, Comus Bvba Belgium and Comus India. The Comus Group of Companies is one of the largest manufacturers in the sensor industry.
The continuing success of the corporation is soundly built on the dedicated approach of its people. This is particularly evident in research & development as in sales where customer ideas turn into finished quality products, on-time; on budget. Comus International's commitment is to provide the highest quality of Shock and acceleration switches, tilt and tip over switches, movement and vibration sensing switches.

Product Catalog
Technical Articles

Optical Level Switches (.pdf)
(Level Sensing)
An optical level switch works by emitting a beam of infrared light within a prism and measuring the amount of light received. When the measured fluid reaches the sensor the amount of emitted light... (
View Full Article
)