About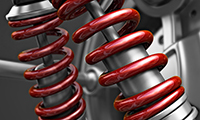 After 120 years of innovation, Duer/Carolina Coil has earned a reputation as one of the leading makers of engineered springs throughout the world. We're a blend of old and new. Conventional and innovative. Our roots go back to 1896. Born in the steel belt of western Pennsylvania, Duer Spring and Manufacturing began by fabricating heavy-duty springs for the rail and mining industries. A little more than a hundred years later, Duer/Carolina Coil is headquartered in a state-of-the-art 130,000 square foot facility located on the dynamic I-85 corridor outside of Greenville South Carolina. Here, we bring together generations of craftsmanship with a team of the industry's brightest engineering minds.
Springs manufactured by Duer/Carolina Coil are put to the test in some of the harshest conditions. As product designs become more complex — sometimes pushing past their limitations — our team of engineers work with our customer's engineers to optimize function, value and style. At Duer/Carolina Coil, we don't own a spring. There are no off-the-shelf stock coils. Whether a design comes in the form of detailed specifications or a napkin sketch, the customer will always own the spring design. What our engineers do, however, is find pitfalls and breakthroughs that no one saw coming. Our vision is to take what we know about making springs and help our customers be more successful.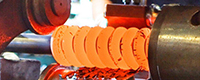 We provide insight on spring rate, load rate and ideas on how to meet close tolerances, reduce buckling and gain stability. We want to help customers engineer a spring with better fatigue life. Product designers rely on our engineers to help them eliminate risks, uncertainties and variables in their spring design. We play an essential role in meeting compliance with specific regulations and standards. Duer/Carolina Coil's engineers can assist with concept development, design specification, material requirements and in some cases, quick turn prototypes. Every Duer/Carolina Coil spring comes with the assurance that it's been engineered, fabricated and tested to meet or exceed performance requirements. Our quality assurance program ensures that all our products are compliant with ISO 9001:2008, but we extend that level of quality to all aspects of our process. We proactively monitor and control both administrative and manufacturing processes from beginning to end.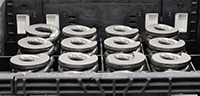 Duer/Carolina Coil works across many industry segments, collaborating with customers to create industrial springs that meet unique requirements. Although every application is unique, the common feature of each spring manufactured is the engineering expertise that ensures precise performance, unmatched durability and overall quality assurance. Whatever the application, our engineering team has the experience and insight to help you address any problems you may encounter. With years of direct experience, as well as the capabilities of one of the world's most technically advanced operations, we have the advanced knowledge base to respond to your needs and exceed your specification requirements. No one does it better.
Supplier Directory Categories
Duer/Carolina Coil, Inc. is listed in these categories: