Profile Home
Supplier:
Federal Signal Corporation/Industrial Systems

About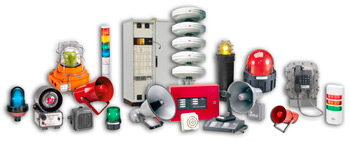 Federal Signal takes its business very seriously.
After all, in today's most hazardous workplace environments, there can be nothing more important than employee safety, with effective inter-plant communications taking a close second. That's why providing customers with the highest quality audible and visual signaling products engineered to deliver uncompromising levels of performance and reliability — has been and continues to be, Federal Signal's number one priority.

The breadth and depth of the Federal Signal product line is nothing short of impressive, and includes everything from warning lights, intercom systems, horns, bells and sirens, to controllers, audible warning systems and digital message devices. Federal Signal also offers complete plant-wide communication systems for both indoor and outdoor applications. Regardless of the application, count on Federal Signal to deliver precisely the right signaling product for your needs.

Federal Signal's technical support capabilities cover the full spectrum of audible and visual signaling applications, including process control, plant safety and emergency evacuation. From responding to a particularly unique in-plant communication problem, to providing efficient warning systems for the most demanding industrial environments, to outfitting individual pieces of process equipment with the most effective audible/visual warning devices — few organizations are better positioned to meet all your signaling requirements.

Performance and Quality...
a Federal Signal Hallmark Since 1901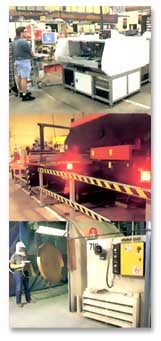 As the world's largest prime manufacturer of audible and visual signaling devices, Federal Signal is the place to turn when it comes to the critical areas of worker safety and internal plant communications. In attaining the highly regarded ISO 9001 Certification, Federal Signal has once again reinforced its commitment to quality manufacturing by conforming to their customers' most demanding standards of product integrity and performance.
Each and every day, around the globe, millions of workers depend on Federal Signal products to get them through the workday safely...and to keep them well-informed as to the status of a vast array of operations, production equipment and potentially hazardous plant conditions. Today, with what is unquestionably the industry's most extensive line of signaling devices, Federal Signal offers everything from hazardous location strobe lights and two-way intercoms, to explosion-proof horns, sirens and other audible signaling devices.

Federal Signal products meet or exceed the uncompromising standards of Underwriter Laboratories (UL), the Canadian Standards Association (CSA) and the European Community (CE). But certification by UL, CSA and CE is just the beginning. Time and time again, in comprehensive tests conducted by independent labs, Federal Signal products have demonstrated reliable performance on the job as well as compliance with the most stringent standards and specifications.

Product Catalog
Technical Articles


Anatomy of a Strobe
(Meters, Readouts and Indicators)
Imagine you are walking down the street on a stormy day. Overhead, a massive thunderhead looms dark and foreboding. The air itself seems electrified -- static energy fills the air, built to a frenzy... (
View Full Article
)