About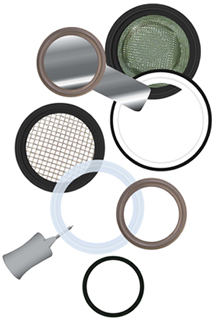 Flow Smart creates polymer solutions for high purity processing. They have developed a pedigree of proven compounds that they utilize in the design of their seals. Their knowledge of applications allows them to combine sound mechanical concepts with their superior compounds to address the needs of the pharmaceutical and biotech industries.
Flow Smart's color-coded gaskets are the first gaskets designed to answer the major concerns of the industry, which include gasket intrusion/entrapment issues, improved SOP Controls, accurate alignment, and ease of assembly. To address these issues they designed a myriad of new features into their color-coded gaskets:
To address intrusion, they created a hard stop on the face of the gasket so that the ferrule face bottoms out. This limits the volume of material that is compressed, thus stopping the intrusion of the seal material inside the pipe diameter.
As an aide in assembly, they added a gripping ring that allows for hands-free assembly while ensuring that the gasket is aligned on the ferrule. Misaligning gaskets at the time of assembly is a common cause of bacteria entrapment.
The ability to have various color options allows end users to design SOP programs that ensure that the correct gasket are installed and which gaskets need to be changed out. The color is clearly visible from the outside of the ferrule assembly. Color choices also enable users to run differing products in lines that are located side-by-side.
Flow Smart has a large stable of compounds that are utilized in the production of their clamp gaskets, flanged gaskets, screen and orifice plate gaskets, bevel seat gaskets, john perry gaskets and USP Class VI o-rings. All of these products can be purchased with metal detectable technology as well.
Supplier Directory Categories
Flow Smart, Inc. is listed in these categories: