About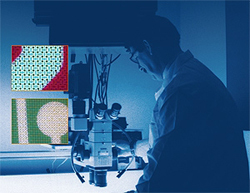 From its headquarters in Duluth, Minnesota, IKONICS develops, manufactures, and markets imaging products and solutions to customers around the world. IKONICS has served imaging professionals for more than 50 years, offering products and imaging processes to markets as diverse as commercial and industrial screen-printing, decorative, and industrial etching, and surface engineering and modification.

IKONICS is committed to developing quality products designed to help its customers succeed.




Chromaline Screen Print Products - To the screen printing market, Chromaline supplies a full line of stencil making films, emulsions, screen chemicals and inkjet media. Its stencil products are designed to help customers create quality, trouble-free screens that meet the needs of today's demanding print jobs.

PhotoBrasive Systems - In the decorative sandblasting market, IKONICS sells its products under the trade name of PhotoBrasive® Systems. Focused on being a "total solution" supplier, IKONICS sells virtually everything a customer needs to set up their own sandblasting business, including training, photosensitive films, art supplies, glass products and equipment.

IKONSign Etch - In the signage market, IKONICS sells its products under the trade name of IKONSign Etch. IKONSign Etch makes it possible to create low cost, fast turn-around, high-detailed signs more productively and less costly than any other sign making system available.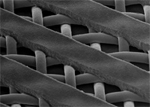 IKONICS Industrial applies more than 50 years? experience in the design and engineering of imaging solutions to a variety of industrial applications. From photosensitive and thin-film coating services and custom formulation of photo-emulsions and films, to designing imaging solutions for surface engineering & modification applications, IKONICS Industrial is a unique and capable resource.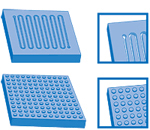 Quality - ISO Certification - IKONICS Corporation first received ISO 9001 Certification on March 30, 1994, and has been subsequently been recertified in the years following. The ISO 9001 Certificate is awarded to companies which can demonstrate that they meet the rigorous and comprehensive quality standards of ISO 9001. ISO 9000 is an internationally recognized quality certification program which originated with the International Organization for Standardization in Geneva, Switzerland, and is administered by approved registrars throughout the world.
Supplier Directory Categories
IKONICS Industrial is listed in these categories: