About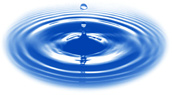 Jaeger Environmental has been involved in the manufacturing and supply of wastewater treatment equipment since 1989. We have supplied plastic media for biological treatment systems for industrial and municipal water and wastewater treatment facilities around the world. Originally operating as the Environmental Systems division of NSW Corporation (Roanoke, VA), Jaeger Environmental specializes in fixed film media for wastewater treatment. Besides marketing our products to a wide range of Industrial and Municipal End Users, our products are also extensively used by OEM companies who build smaller wastewater treatment systems and oil/water separators.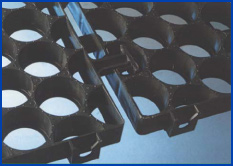 Our products include our unique Sessil trickling filter media which is ideal for high strength industrial wastewater applications, wastewater with high TSS concentrations and municipal applications. Sessil boasts the only continuous vertical design and has no packing interfaces for solids to accumulate. In 1994, we introduced our Bio-Pac SF#30 random dump media which is ideal for upgrading existing rock trickling filters, new trickling filters, and submerged applications including hybrid anaerobic reactors. Our Dura-Pac modular PVC media was introduced in 2001 and is widely used in municipal wastewater plants for both BOD removal and nitrification. The Dura-Pac media is also used for industrial wastewater treatment, anaerobic fixed film media, and oil/water separators.
Our other products include Nor-Pac tower packings (for mass transfer applications including air scrubbers and air stripping, aqua culture applications, and smaller wastewater applications), Kompakt tubular block media (oil/water separators, submerged fixed bed applications), Dura-Set (tube settlers), Dura-Sac screening systems, Kontakt MBBR/IFAS media (moving bed biological reactors and integrated fixed-film activated sludge systems), N-Dec under drain panels for Bio-Pac, and Dura-Dek protective grating.
Jaeger Products, Inc. is a manufacturer of tower packing, trays and column internals used in all types of chemical processes and environmental applications. Since 1978, with the introduction of the Jaeger Tri-Packs® random packing, Jaeger Products has continued to offer a comprehensive line of mass transfer equipment. Jaeger Products product line includes: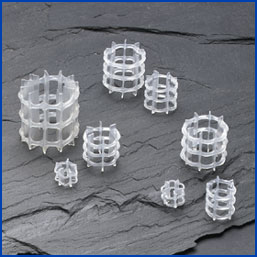 plastic, metal, and ceramic random packings,
structured packings,
high performance trays, and
all types of custom designed internals.
The Jaeger Environmental staff has over 50 years of experience in the design and supply of these products. We also have extensive operating data from full scale and pilot scale studies. Our services include an experienced engineering staff ready to assist with system designs, troubleshooting, or choosing the proper equipment for your application. Our professional sales and customer service staff provide competitive verbal or written quotations with reliable delivery information without having to wait days. Our commitment to ample inventories and "just in time" delivery scheduling is part of why Jaeger and Jaeger Environmental has the best customer service ranking in the industry. We look forward to the opportunity to be of service to you.
Supplier Directory Categories