About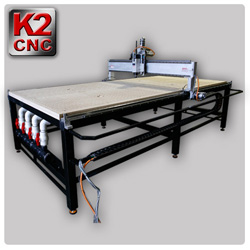 K2 CNC machines allow for repeatability, reliability, and accuracy. K2 provides quality parts like servo motors, precision high load ground or rolled ballscrews, leadscrews and anti-backlash nuts, profile rails from THK, SKF, and other high grade brands. K2 uses in-house CNC mills and lathes to produce precision parts out of aircraft grade 6061 aluminum to be used on K2 CNC machines. Whether you are new to CNC or have experience, K2 will be there to provide unmatched service, product, and support. K2 strives to provide high quality products at a great price. These accurate machines are used by a wide variety of manufacturing industries including luthiers, cue makers, general woodworkers, plastic injection companies, sign makers, plastic and aluminum sheet manufactures, aerospace, automotive, medical, surfing and defense.


K2 Devices Products includes:
Small 4" x 7"
Desktop 25" x 25"
Sheet Size 5' x 10'
K2 Devices also provides custom machine sizes.
Custom fixtures and machine add on.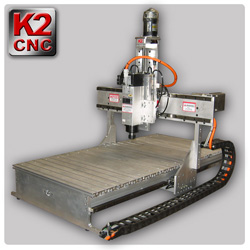 K2 Devices, Inc. has over 15 years of experience in stepper and servo electronics, automation and linear motion. K2 has over 13,000 square feet, uses 6 highly precision milling machines and 2 lathes to manufacture components in Anaheim California. K2 CNC machines are designed, milled and assembled in-house. With machines the customer can maintain, K2 machines are built to last! K2 Staff are trained to do various duties and multi-task to keep costs low and help strengthen needed skills. Their brand is important at K2 and they strive to make the company better in any way possible. One of their goals is to always improve the quality, reliability, and efficiency of any of their products wherever possible.

K2 Devices' core mission is to provide a solution and not just a machine to customers that are new to the CNC technology experience. Product support and product improvements mean they will have returning happy customers. They at times go out of the way in providing answers where other companies may not even pick up the phone. Customers greatly appreciate their suggestions on where to buy bits, materials, software, scanners, and other valuable information that will help the customer accomplish their goals faster, at lower cost.

At K2, they are committed to providing excellent products, services, and support at an affordable price.


Supplier Directory Categories
K2 Devices, Inc. is listed in these categories: