About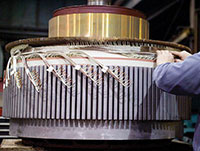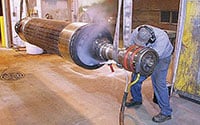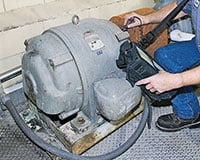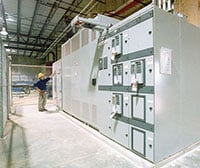 L&S Electric has been part of the Midwest community for decades. Although the equipment and services we provide are for other businesses, everybody in the community benefits from the work we do. From rebuilding municipal wastewater pumps damaged by flooding to making emergency repairs to a power-generating station that was hit by lightning, our experts provide services to our customers, which, in turn, then restore service to the public.
L&S Electric is one of the largest, and best, rotating-apparatus service providers in the United States. We distribute a wide variety of electric motors and products, and we provide thorough electrical and mechanical field services and complete repair of most rotating industrial equipment. Our Hydro Solutions division is focused on providing control solutions for the hydro-electric sector worldwide.
Our machining services provide a large advantage over other service centers. We feature custom machining using our advanced CNC machines to meet your milling, turning, boring, grinding, and fabricating needs. For custom-designed equipment that lack specifications, we can quickly reverse-engineer most parts. Equipped for long- and short-run production, L&S Electric can machine rolls, shafts, castings, and more.
All six L&S Electric service centers have earned EASA accreditation for motor repair. L&S Electric is the first company in Wisconsin, Minnesota, and Michigan to earn accreditation, which assures the efficiency and reliability of repaired motors. L&S Electric is also the first company to earn certification for multiple locations. In addition to EASA accreditation, all our locations comply with ISO 9001 quality standards, making L&S Electric the only service center to have earned both major quality standards.
If repairing or rebuilding will not provide the results that you require, L&S Electric also provides a complete line of new equipment. We partner with only the best suppliers in the industry. It does not matter if you need a new electric motor, generator, variable frequency drive, soft starter, gearbox, or many other accessories. We stand behind our quality products and service.
After you purchase a new electric motor, our On-Site team provides complete servicing. We remove the old motor and install the new one. However, our work encompasses more than simply installing equipment. We ensure that your new motor operates and performs to its optimal specifications. The On-Site team performs complete turnkey services, base modification and fabrication, dry ice cleaning, predictive maintenance, and high-voltage generator and motor testing.
Our reliability increases your availability. We work extremely hard to keep your facility working. Our strength is that we diversify but emphasize service. Our company motto is succinct: "Dedicated People, Quality Products, and, Above All, Service."
Supplier Directory Categories
L & S Electric, Inc. is listed in these categories: