About
Sensor Technologies is a Japanese industrial camera manufacturer, established in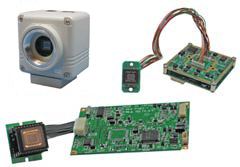 1987. They specialize in and solely focus on industrial video cameras.
Sensor Technologies America opened operations in the USA in 1999 and in Taiwan in 2003. This year they will have designed and built over 110,000 industrial video cameras. Of these, approximately 48% were designed and built under contract for OEM's or other Japanese electronics and/or camera manufacturers. If you think about it, the fact that these giant, well known companies are comfortable enough with their design capability and product quality to put their name on Sensor Technologies built products and sell them in the market as their own, really speaks highly of Sensor Technologies. The US Industrial camera market has responded exceptionally well to their services and products. Due to their ability to customize their standard cameras and/or build custom products, they have been able to help their customers reduce their product / engineering costs and be more competitive in their markets.
The standard off-the-shelf Sentech cameras are exceptional in performance and price. In the last seven years, they have enjoyed such an influx of customers that believe it or not, they have been visited by four of their major competitors. They wanted to come to their office in Dallas, Texas to see what they were doing and why their customers were switching to Sentech . It is simple; again, Sensor Technologies is providing better products, better pricing, better support, and better service.
Sensor Technologies's product quality is second to none!

Sensor Technologies is frequently asked, "If the Sentech products are so good, compared to those of the brand I am currently using, why are your prices so low?" The simple fact is that they are an industrial video camera company. Sensor Technologies designs and build industrial video cameras, they do not build televisions, commercial camcorders, radios, or appliances; they specialize in building industrial video cameras. As they are specialized and focused, they do not have the overhead that their giant competitors have. In addition, their corporate culture is based in the OEM world and their pricing structure is designed as such. Do not let their prices fool you. Many companies have initially thought that based on Sensor Technologies' prices, their product quality was lower than the cameras currently in use. However, a low cost on a camera will not offset poor quality and the problems that follow. The fact of the matter is, Sensor Technologies' cameras are probably much better than the brand you are currently using. Sensor Technologies's product quality is second to none and better than most, the low pricing is just an additional benefit for you.
At Sensor Technologies America, Inc., they truly strive to provide their customers with the best products, most aggressive pricing, strong administrative support, and the best technical support in the market. Their customers have told them the support from Sensor Technologies helped shorten product development cycles, allowing their product to reach the market faster and with less investment. Supporting their customers like this is very important to Sensor Technologies. They pledge to you to continue their efforts to provide you and your company with the best support, service, and products on the market today and tomorrow.

Building OEM Cameras for the Future...
As for the future, they are focused solely on the latest technologies to enhance their product offerings. Sensor Technologies spends countless engineering resources on identifying these technologies and integrating them into their next generation of camera products.
If your organization/system/product could benefit by having a better camera, better engineering support, and better pricing, please call them. If your company wishes to align with a camera manufacturer who not only believes they have a responsibility for today's product set but also for tomorrow's, please give Sensor Technologies America, Inc. a call.

Supplier Directory Categories
Sensor Technologies America, Inc. is listed in these categories: