About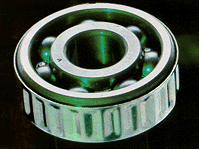 Met any good Tolerance Ring companies lately? Never heard of this type of flexible shim, known as a Tolerance Ring? USA Tolerance Rings -- an exceptional company -- an exceptional product! The company has been meeting design needs for American industry since 1961. Its customers include manufacturers of automobiles, home appliances, power tools, electric motors, and computer disk drives as well as many others.

Tolerance Rings are tough enough to be an anti-theft device on a steering column, but delicate enough to center a miniature ball bearing in a disk drive.

USA Tolerance Rings is as flexible as its product. The company responds to customers, large and small, with efficient, courteous service; with reliable and cost-effective solutions to design needs; with rapid turnaround of sample parts and with development testing in customer components. Its facility in Pennington, New Jersey, along with its European affiliate in the United Kingdom, offers parts produced in volume to levels of extraordinary accuracy and consistency. USA Tolerance Rings is the singular source for Tolerance Rings in North America.

Join the ranks of the hundreds of engineers who, when confronted with a design problem, made the happy discovery of USA Tolerance Rings -- an exceptional company; an exceptional product.
Supplier Directory Categories
Technical Articles

Cost Savings Using Tolerance Rings
(Bearings and Bushings)
Tolerance Rings allow for dissimilar materials, compensating for differential expansion, cold flow and creep. Stainless steel rings resist corrosion and high heat. Tolerance Rings can be made from... (
View Full Article
)

How Rings Work
(Hand, Power and Assembly Tools)
The Tolerance Ring is a precision-engineered device made form a thin spring steel strip of material into which waves, corrugations or bumps are formed. (
View Full Article
)