| | |
| --- | --- |
| Electronic Components & Product Design | |
This event has concluded. We are sorry you missed it. Please review our
Upcoming Events
and
On-Demand Events
for optional events to attend. Be sure to sign up for the next event in this series.
1:15 PM - 2:00 PM EDT (10:15 AM - 11:00 AM PDT)
Polymers and Plastics in Telecommunications
A 10-13% annual growth rate for telecommunications products such as cables, connectors, antennas, and printed circuit boards is projected through 2015. The growing market for these products has created a need for materials with special properties to meet equipment challenges. This presentation will address technical aspects of polymer selection for the manufacture of telecommunications products. In particular, attendees will review currently available plastics with emphasis on where and how they are used in the manufacture of telecommunications equipment. They will also discuss degradation and failure aspects of polymers and how they impact end product performance. Engineers and scientists involved with the design and development of telecommunications equipment will benefit by learning how to select the right material for the right application. Material suppliers will better understand telecommunications industry equipment requirements.
Key Take-Aways:
Understand how polymers and plastics are used in the manufacture of telecommunications equipment
Learn how material selection impacts product performance
Understand and identify the causes of polymer degradation
Review causes and mechanisms of polymer failure
Speaker: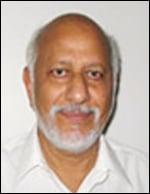 Sitaram Rampalli, President and Principal Consultant, Polyplast Consultants International, Inc.
Sitaram Rampalli is the president and principal consultant at Polyplast Consultants International, Inc., a technical and scientific consulting firm assisting the telecommunications, energy, and electronics equipment industries. An expert in polymer science and plastics technology, with extensive experience involving wire and cable, connector, and antenna applications, Rampalli holds a Master's degree in Polymer Science from the University of Akron, OH. He earned his Ph.D. in Chemistry from the Indian Institute of Technology, Bombay. Rampalli is a senior member of the Society of Plastics Engineers and a member of the American Chemical Society (ACS).