This event has concluded. We are sorry you missed it. Please review our
Upcoming Events
and
On-Demand Events
for optional events to attend. Be sure to sign up for the next event in this series.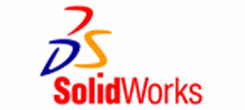 Dassault Systèmes SolidWorks Corp. provides intuitive 3D design software solutions that enable designers and engineers to quickly transform their ideas into innovative products. SolidWorks covers all aspects of your design process. Our 3D CAD software gives you powerful design capabilities for faster product development. Integrated simulation technologies measure and verify the quality and performance of your design before production. Data management and documentation tools increase design collaboration and help you clearly communicate with your suppliers and your customers.
SolidWorks products are easy to learn and easy to use, helping designers quickly become skilled in 3D modeling. The intuitive design and user interface of SolidWorks software allows more engineers, designers and other technology professionals than ever before to take advantage of 3D in bringing their designs to life. A growing community of more than 1.4 million users around the world develops innovative products across a wide range of industries.
Visit our booth on April 20th to talk live with a SolidWorks expert. View demonstration videos, review our customer stories and white papers. See what SolidWorks can bring to your design process.