| | |
| --- | --- |
| Industrial Automation & Robotic Systems | |
This event has concluded. We are sorry you missed it. Please review our
Upcoming Events
and
On-Demand Events
for optional events to attend. Be sure to sign up for the next event in this series.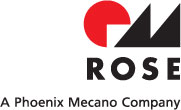 Rose is a global leader in aluminum enclosures and industrial HMI enclosures. Our die-cast aluminum enclosures set industry standards for instrument protection, even in hazardous environments. Rose also specializes in state-of-the-art HMI enclosures and Suspension Arm Systems. Our booth will feature the New SL 4000 HMI enclosure.The new SL 4000 enclosure offers many innovative features for HMI applications:
· Flexible sizing in both height and width based on 3 enclosure depths
· Integrated handle system
· Easy mounting and installation of front panels
· Console configurations
Rose is a skilled partner that innovative companies choose when bringing new products to market. We offer many value-added services from machining, powder-coating and screen-printing to product assembly and prototyping, all done in-house. Our state-of-the-art CNC processing center enables us to perform difficult machining work to tight tolerances. Customizing enclosures used to protect sensitive electronic devices or electrical equipment is our specialty. You will find Rose enclosures used in mechanical engineering, measurement and control, medical technology, instrumentation, aerospace, petrochemical, and alternative energy sectors, among others.
Visit our booth on May 23rd to learn more about Rose enclosures and our wide range of products and value-added services for the industrial electronics market. We will highlight our new SL 4000 HMI enclosure at this Industrial Automation eVent. We hope to see you there!