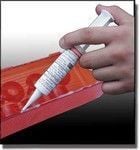 GlobalSpec has asked its users about the latest design trends and features related to Industrial Adhesives. They have also shared their product applications and tips on how to buy and use these products.
See the entire survey
Do you have any advice for people relative to buying or using industrial adhesives?
10 answers
The 'Glu-Man' glue spreader from Hanfas is a manual hand-held glue applicator with two rollers. It is available with micro adjustment for variable flow of glue application. It facilitates easy and even spread of glue over large panels as well as curved surfaces. Besides being user friendly, it also enhances the operator efficiency. Almost 30% glue saving against conventional spreading with brush or spatulas or rollers. Work can be completed in half time, thus making it possible to complete large volumes of pasting in target time.
~Sofea H, CEO, PUNE. MAHARASTRA, INDIA
Need to analyze and understand the objectives of using a particular adhesive so as not to be 'overpaid' due to excessive & unnecessary strengths attained vs actual requirements, or unnecessary rejects/failures due to 'understrength' and the use of cheap & inappropriate adhesives.
~KS L, Marketing/Sales, Pathumthani, Thailand
Yes Get advice from experts, a manufacturer who has an advice line who can assist in product type and application list.
~Engineering, Other, Swansea, United Kingdom
Understand the products before using. Consider benefits as well as limitations.
~Robert I, Technical Support, St. Paul, MN
Review existing portfolio of products before selecting products.
~Project Manager, Irvine, CA
Information before buying, tests with a glue specialist.
~Technical Support, Trofa, Portugal
Know what specs. are needed before placing order
~Michelle Giampoaletti-Roy, Purchasing & Assistant Manager, Tucson, AZ
Spec in more then one adhesive.
~Johan J, Engineer, Stockholm, Sweden
Test before you do the job
~Vladimir JEREB, Distributor, LJUBLJANA, SLOVENIA EU
Buy 3M
~Mandar Rajpathak, Industrial Designer, Pune, India