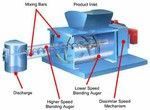 GlobalSpec has asked its users about the latest design trends and features related to Industrial Mixers. They have also shared their product applications and tips on how to buy and use these products.
See the entire survey
What would your design or feature "wish list" be for this product?
15 answers
Temperature control, programmable, automatic sampling or online for viscosity check, easy cleaning or emptying of tank, visual monitoring.
~Sit CK, Process Engineer, Westborough, MA
Torque sensor Automatic speed determination based on liquid condition (temperature/conductivity homogeneity)
~Danial Irfachsyad, Research & Development, Jakarta, Indonesia
Speed control. Variable electric drive. Networking capabilities. Communication and control.
~Nick S, Engineer, Minneapolis, MN
1.Work efficiently 2.Good materials 3.Well processed 4.Easy to operate 5.Simple structure
~Polinda Chao, Marketing/Sales, Shanghai, Sri Lanka
Mixing rate Mixing time Cleaning Maintenance Loading Sampling
~BOUCHEMOUSSE JL, Technical Support, CHICAGO HEIGHTS, MI
A mixer which changes the angle of baffles electrical or mechanical.
~Hubert B, Senior Quality Manager, Burghausen, Germany
Something that is easy to clean & to maintain.
~Dave Hollingworth, Production Engineer, Newark, UK
Push a button and have immediate cleanout.
~Thomas C., Project Manager, Eau Claire,, U.S.
Erosion resistance, power consumption
~John Wilson, Process Engineer, Melbourne, Australia
Include on the mixer a flow meter.
~Raul Faudoa, Engineer, Toluca, Mexico
Low pressure drop, complete mixing
~Philip P, Research & Development, Macclesfield, UK
Better simulation programs
~Jay Ozkose, Process Engineer, Istanbul, Turkiye
Need seal flush better
~Damon W, Engineer, Macon, GA
Hydraulic drives
~Gabe T, Marketing/Sales, Kitchener, Canada
Mass transfer
~Roberto B, Project Manager, Brisbane, Australia