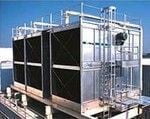 GlobalSpec has asked its users about the latest design trends and features related to Cooling Towers. They have also shared their product applications and tips on how to buy and use these products.
See the entire survey
What would your design or feature "wish list" be for this product?
12 answers
We are Mfg. FRP Induced Draft Round Bottle Shaped & Square (Multi cell) Cooling Towers Cap. 5 TR to 800 TR in Single Cell.
~Manufacturing, Valsad, India
Auto sensing speed control of fan depending on the water temperature.
~Shahed H, Manufacturer, Dhaka, Bangladesh
Updated technical information and selection programs.
~Islam G, Engineering Consultant, Cairo, Egypt
Compact & cost effective/ value for money.
~Krishnakumar S, General Management, Chennai, India
Low pressure drop and efficient packing.
~Alejandro V, General Management, Guadalajara, Mexico
Good CT approach and larger basin.
~Deodato G, Facilities Manager, Manila, Philippines
Use of water without treatment.
~Ross N, Engineering Consultant, Brisbane, Australia
Fan blades high performance
~Luis Martinez Poot, Technical Support, Cancún, Mexico
Power saving & cost down
~Manufacturing, Tainan, Taiwan
Enhanced Induced draft
~Musharraf K, Quality Control, Islamabad, Pakistan
Combine fan+fill
~Purchasing, Mumbai, India
Revolutionary.
~Mark Rawles, Project Manager, Sta Rosa, Philippines