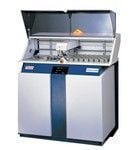 GlobalSpec has asked its users about the latest design trends and features related to X-ray Instruments and X-ray Systems. They have also shared their product applications and tips on how to buy and use these products.
See the entire survey
Do you have any advice for people relative to buying or using x-ray instruments and systems?
8 answers
For industrial radiography check out China and specify how you want your purchase built. They will build to your spec from their standard, cheap designs...and the quality for price can be excellent.
~Ian Huff, Owner and ideas & surprises manager, Perth, Australia
Radiological hazard control is most important while using X-ray machines. So equipment that can provide maximum safety should be purchased. Second, local service should be available.
~Shipra S, Purchaser, New Delhi, India
I request users to use X-ray instruments of reputed companies as they take utmost care of the quality of the equipment.
~Prashant K, Marketing/Sales, Nashik, India
After using X-ray system it improves your product value on the quality side
~Sameer Sarhadi, Marketing/Sales, Aurangabad, India
When selecting focal spot size check correctly the EN No or IEC No.
~Vijaya Raghavan, Quality Control, Bangalore, India
Pl. understand exact needs of using X-ray Equipment
~Nitin M, Project Manager, Pune, India
Know your objectives well, current and future!
~Alexey B, Research & Development, Yekaterinburg, Russia
After sale training very important
~WINNIE KABALE, DIAGNOSTIC RADIOGRAPHER, JOHANNESBURG, SOUTH AFRICA