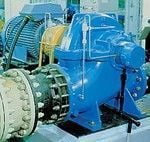 GlobalSpec has asked its users about the latest design trends and features related to Water Pumps. They have also shared their product applications and tips on how to buy and use these products.
See the entire survey
What new technologies are influencing water pump design?
16 answers
Biologicals for agriculture use. Living fertilizers contain beneficial microorganisms and the pumps must not damage them, but we need enough flow/throw to apply the material to trees and crops in spray systems with 300 ft of 1/2" hose.
~Caleb A, Manufacturer, Santa cruz, CA
IMPELLER High performance Improve the Cavitation Problems Suitable Material Of Construction
~Hamdan J, Marketing/Sales, Jeddah, Ksa
The use of different materials rather than mtals
~Seif K, Engineering Consultant, Sharjah, UAE
Electronics, technology of new materials.
~Aleksandar S, Design Engineer, Banja Luka, Bosnia and Herzegovina
Multi stage multi delivery system
~Maintenance/Facilities Management, Calicut, India
Solar/renewable energies.
~Ken T, General Management, Dwangwa, Malawi
Computer designing
~Jacob G, Technical Support, Kijegge, Kenya
Constant pressure
~Pierre M, General Management, Embrun, Canada
Size vs output
~Jean Marc M, Retired, Saint Lazare, Canada
Usa, china, uk
~Purchasing, LAGOS, Nigeria
Solar power
~Purchasing, Trowbridge, Great Britain
Metalurgy
~Project Management, Silves, Portugal
Ceramics
~Martial Bertrand, Process Engineer, Santa Ursula, Spain - Canary islands
Coinject
~Fabio L., Design Engineer, Ancona, Italy
Green
~Purchaser, Gulfport, MS
Rpm
~UCHENNA E, Purchaser, PORTHARCOURT, NIGERIA
From your perspective, which companies are creating the most innovative water pumps?
15 answers
Shurflow diaphragm pumps are pretty good. D/C is good but the psi is too low and flow could be better. Aquatec is better with psi of 70 but flow is only 5.2 gpm.
~Caleb A, Manufacturer, Santa cruz, CA
Davies and Shirtliff - Kenya
~Jacob G, Technical Support, Kijegge, Kenya
Endress, Grundfos
~Martial Bertrand, Process Engineer, Santa Ursula, Spain - Canary islands
Burmann, Grandfos
~UCHENNA E, Purchaser, PORTHARCOURT, NIGERIA
FLYGT KSB ABS
~Hamdan J, Marketing/Sales, Jeddah, Ksa
Many of them
~Seif K, Engineering Consultant, Sharjah, UAE
Groundforce
~Project Management, Silves, Portugal
Grundfoss
~Ken T, General Management, Dwangwa, Malawi
Kirloskar
~Maintenance/Facilities Management, Calicut, India
Grundfos
~Pierre M, General Management, Embrun, Canada
Sta-Rite
~Purchaser, Gulfport, MS
Tsumari
~Jean Marc M, Retired, Saint Lazare, Canada
Sogemi
~Fabio L., Design Engineer, Ancona, Italy
Wilo
~Aleksandar S, Design Engineer, Banja Luka, Bosnia and Herzegovina
USA
~Purchasing, LAGOS, Nigeria