Show all Exterior Insulation and Finishing Systems (EIFS) Manufacturers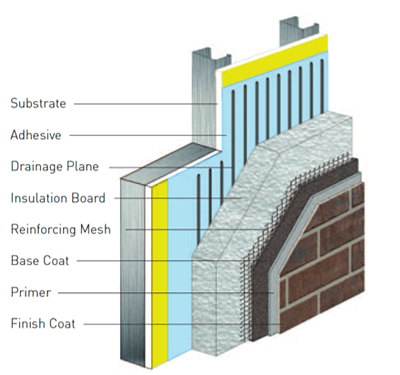 Exterior insulation and finishing systems (EIFS) are multilayer, nonload-bearing overlays which protect and insulate the exterior walls of a structure. EIFS effectively reduce heat transfer between a building and the environment. They are versatile in their aesthetic and are ideal protection for residences and businesses.
EIFS are composed of a substrate, adhesive, insulation board, reinforcement mesh, base coat, primer, and finishing coat, at minimum. Polymer-based EIFS are most common. There are two general types of EIFS: barrier wall systems and wall drainage systems. Barrier wall systems use the base coat of the exterior for weatherproofing. All associated components must conform to this system. Drainage types are installed over a weather barrier or substrate and are a supplementary runoff conduit. Flashing, sealants, or wiring fasteners might be installed as well.
Image credit: