Staffing and Recruiting Services Information
Staffing and recruiting services provide workers to companies with hiring needs. They are contracted or hired by businesses to recruit and employ workers. Beyond supplying qualified candidates, many staffing and recruiting agencies are responsible for paying wages, withholding all necessary taxes, and maintaining insurances. Most staffing and recruiting firms charge the client a percentage of the annual salary of the open position.
When selecting staffing and recruiting services, it is important to consider the size of the organization. Staffing and recruiting services range in size from small organizations that focus on specific geographic regions to multi-national companies.
Video Credit: Zero To Pro Training
Types of Services
There are several types of staffing and recruiting firms, and each type offers specific services to its clients. The most common types are:
Personnel placement firms - Also known as a recruiter, a personnel placement firm will find potential candidates to interview for open positions within a company.
Executive search firms - Also known as headhunters, executive search firms recruit for highly visible, senior-level management positions.
Temporary Staffing firms - Sometimes called temp agencies, temporary staffing firms provide skilled employees to fill a position for a short period of time.
Staffing services can perform the duties of in-house human resources (HR) personnel. For example, hiring employees through a staffing service allows an employer to hire a flexible workforce, add employees as needed, and reduce the overall cost of employee benefits.
Many companies use staffing and recruiting firms when they need assistance throughout the hiring process. Firms will often begin by consulting with the client about the company's hiring needs and then work closely with the client to conduct a job analysis, which they will then use to create a job description. Using this information, the staffing and recruiting firm can then make recommendations on a recruitment strategy. There are many other areas in which staffing and recruiting firms can assist companies. Some examples include:
Applicant tracking
Selection
New hire processing
Compensation planning
Onboarding
Temporary staffing
Reporting
Types of Employees Provided
Staffing and recruiting services can provide employees for just about any company. When selecting a firm, it is important to consider the hiring needs of the organization and find a staffing and recruiting agency that can meet those requirements.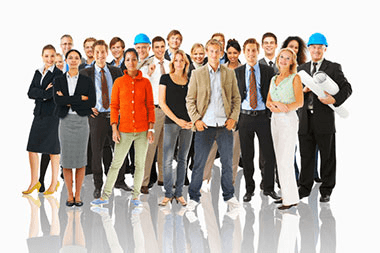 Position-Specific
Many staffing and recruiting agencies operate with a focus on specific areas in the job market. For example, IT staffing services may provide programmers, development managers, and systems administrators to government agencies or large-scale manufacturing operations.
Temporary
Depending on the agency and the needs of the client, a staffing and recruiting agency can provide personnel for temporary or permanent employment. Temporary employment agencies are staffing services that provide workers to businesses on a short-term basis, a long-term basis, or a temporary-to-permanent (temp-to-perm) basis. Providing a short-term temporary employee for a specific project is an important function of a staffing service.
Office and Clerical Staff
Office and clerical staff make up the largest part of the staffing services industry and include administrative assistants, office clerks, and receptionists.
Industrial Staff
Staffing services also provide workers such as laborers, cleaners, and assemblers. In terms of experience, these employees range from inexperienced laborers to highly-skilled machine operators.
Professional and Technical Staff
The professional and technical staffing segment covers a wide range of skills and includes positions such as engineering temps and engineering contractors. An engineering temp or engineering contractor may be hired when, for example, a manufacturer needs engineering support for a project with a fixed duration. In recent years, this practice has proliferated as companies seek to fill short-term, project-based positions while minimizing healthcare costs. Other professional and technical staffing needs may include:
Marketing contractors
IT contractors
Scientific contractors
Healthcare temps
Accountants
Standards
AR 570-5 - Manpower and Equipment Control - Manpower Staffing Standards System
DOD D 1100.9 - Military-Civilian Staffing of Management Positions
Image credit:
Protocall Group