Grounding Bars and Rods Information
Grounding bars and grounding rods are electrical connections that divert undesirable current in order to protect humans and equipment. Typically, they are made of cold-drawn or galvanized steel and plated with copper.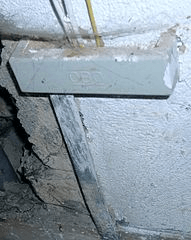 Grounding bars and rods provide a physical connection to the earth and are used to dissipate current.
There are two types of ground electrodes in a grounding system: intrinsic and made. Intrinsic electrodes are already present in buildings, facilities, and structures. Examples include metal pipes, metal frames, and reinforcing bar (rebar) used in concrete foundations. So-called "made" electrodes are not part of the structure, but are installed specifically to improve grounding (see the picture to the right). Examples include buried conductors, grounding bars and rods, pipes that are driven into the ground, metallic plates, and wire mesh.

Suppliers of grounding bars and grounding rods provide many different products. In most soils, copper-bonded ground rods provide better corrosion-resistance and longer life than galvanized rods. Copper-bonded grounding rods may feature an average tensile strength of 50,000 to 75,000 pounds per square inch (psi) and a straightness tolerance of 0.10-in. per linear foot. Pointed copper-bonded grounding bars and rods are sometimes made of high-strength, cold-drawn steel. They may be used with compression couplers. Sectional copper-bonded grounding bars and rods often use cold-rolled threads instead of cut threads to provide added strength. These deep-drive rods are extremely durable, and maybe be used with threaded couplers and drive studs. Typically, drive studs screw into the threaded coupler while the rod is driven.

Product specifications for grounding bars and grounding rods include:
Plating thickness
Diameter in millimeters (mm) or inches (in)
Length in meters (m) or feet (ft)
Weight in kilograms (kg), pounds (lbs), or weight per hundred.
Grounding bars and rods may be sold in packs or master bundles, and rated for specific applications and industries. Some products are UL Listed or comply with quality standards such as ISO 9001. Others meet standards from the American National Standards Institute (ANSI) or the Canadian Standards Association (CSA). UL 467-1984 and GR-1 compliant grounding bars and rods are also available.
Image credit:
Wikimedia/O. Brill