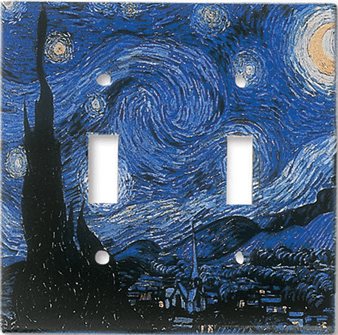 Image Credit: Legrand | Artplates | Leviton
Wallplates are covers for electrical receptacles and switches normally mounted on a wall.
Selection Criteria
GlobalSpec lets users search for wallplates based on type, number of openings, material, and features.
Types of Wallplates
Wallplates can be used in many applications in many industries. There are several types available depending on the application.
Blank wall plate- A blank wallplate does not house any device. It is used to cover devices that are not to be controlled by humans.
Image Credit: Legrand
Cable TV wall plate- A cable TV wallplate houses a cable TV connector.

Data jack wall plate- A data wallplate houses a data connector.

Despard switch plate- A despard is an old type of wallplate that is in use today as a decorative item.

Duplex outlet cover- A duplex wallplate houses a duplex outlet, that is used for plugging appliances such as toasters, hair dryers, etc.

Phone jack wall plate- A phone jack wall plate houses a phone jack.

Rocker / GFCI switch plate- A rocker switchplate houses a rocker switch. A rocker switch turns on and off an appliance such as a light bulb by pressing the switch up or down. The outlet can also house a GFCI (ground fault circuit interrupter) receptacle.

Toggle switch plate- A toggle wallplate houses a toggle switch. A toggle switch turns on and off an appliance such as a light bulb.
Number of Openings
The number of openings in the face of the wallplate determines how many devices can be attached to the electrical receptacle or switch.
One-The wallplate has only one opening for one device.

Two- The wallplate has two openings for two devices.

Three- The wallplate has three openings for three devices.
Image Credit: Legrand
Four- The wallplate has four openings for four devices.

More than four- The wallplate has more than four openings.
Wallplate Material
The choice of material depends on the application, operating environment, and aesthetics of the environment. Some choices for materials include aluminum, brass, bronze, copper, nickel, steel, ceramic, and plastic. Decorative wallplates can be made from porcelain or wood species such as cedar, maple, oak, or pine.
Features
Wallplates can be available with several different features to fit the application.
Screwless wallplates offer a seamless look. They eliminate the channel that can collect dirt around the edge.

Decorative wallplates can be carved or painted to match the environment or decor of the application.

Combination wallplates can be used for two different types of switches.
Image Credit: Legrand