Cable Ties Information

Show all Cable Ties Manufacturers

Cable ties, also known as a zip-tie or tie-wrap, hold groups of cables together for support and ease of maintenance. Cable ties often come in a variety of colors and sizes for different applications.
Cable ties come configured as either a cable tie or a cable wrap.
Cable ties are used to bundles wires, cables, and tubing together.
Cable wraps are used to bundle wires, cables, and tubing firmly, but allows flexibility.
Specifications
Important specifications to consider when searching for cable ties include material, mechanical strength, maximum diameter, length and width, and temperature range.
Material is a very important specification when selecting a cable tie. The common material types available are aluminum, cloth, nylon, PTFE, PVC, and stainless steel. The material should be strong enough to perform for the required time in the application. It should also be compatible with the cable material to not cause corrosion, excessive wear, or damages.
Mechanical and tensile strength of the cable tie should be considered depending on the application. For applications that may strain the cable tie bundle, it is important to consider the minimum loop tensile strength. This is a reference mechanical characteristic for a cable tie when the locking mechanism is engaged. Loop tensile strength is dependent both on the locking design and the tensile strength (psi) of the material.
The maximum diameter refers to the maximum diameter of the bundle of wires and cables that the cable ties can support.
Length and width of the cable tie depends on the type of cable as well as the amount of cable that needs to be tied. The cable tie should be able to loop and lock fully. Extra tie material should be left past the lock to prevent pull through.
The temperature range specifies the full-required range of ambient operating temperature.
Features
Strain reliefs protect the electric products by absorbing the forces of push and pull that may be exerted on the flexible wires, cables, or tubing.
Mounting head cable ties have a loop that allows the tied cables to be mounted out of the way or attached to one another.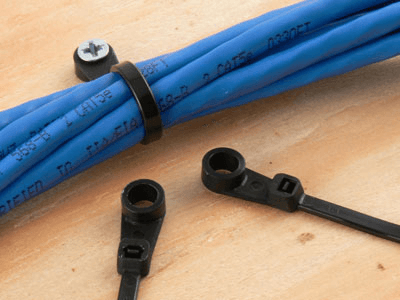 Mounted head cable tie. Image Credit: SecureTM Cable Ties
ID tags can be attached to the cable tie for labeling the origin and/or destination of the cables as well as logging inspection dates.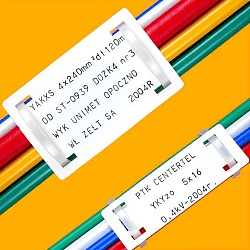 ID tags. Image Credit: Joanna Kurant
Tear away cable ties are ideal for temporary applications. The tie can be undone by pulling down on the tail or arm.
Releasable cable ties are ideal for temporary applications. The tie can be undone and reused.
Standards
Common approvals for cable ties include NEMA, CSA Mark (US, C and US, NRTL/C), UL Listing Mark, and UL Recognized Component Mark (US and Canadian).
NEMA supports a global approach to the selection and specification of cable ties for electrical assemblies. The Type or classification of the cable time is based on the tested ability of a product to retain its mechanical performance both before and after exposure to various conditions.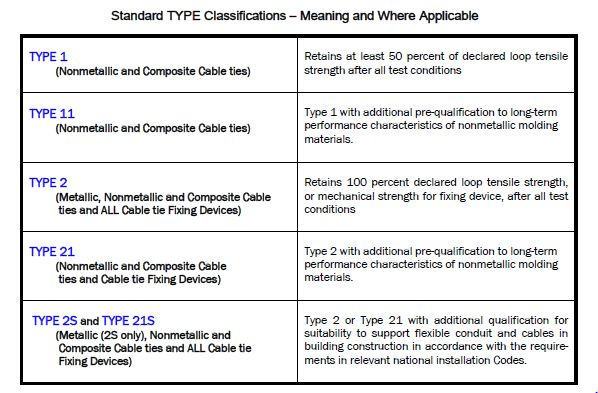 Standard Type Classifications. Image Credit: NEMA
The CSA Mark may appear alone or with indicators. If it appears alone, it means that the product is certified for the Canadian market, to the applicable Canadian standards. If this Mark appears with the indicator "C and US" or "NRTL/C" it means that the product is certified for both the U.S. and Canadian markets, to the applicable U.S. and Canadian standards.
The UL Listing Mark denotes that Underwriters Laboratories Inc. (UL) has found that samples of the cable ties met UL's safety requirements. These requirements are primarily based on UL's published Standards for Safety. UL Recognized Component Marks used only on component parts that are part of a larger product or system. These components may have restrictions on their performance or may be incomplete in construction. Products intended for Canada carry the Recognized Component Mark "C."
Resources
New Cable Tie "Type" Classifications
Image Credit: Grainger
---
Related Products & Services
Cable Clamps

Cable clamps are used to bundle, clip, clamp, label, guide, and protect wires and cables.

Shrink Tubing

Heat shrink tubing conforms to the size and shape of wires, connections, open coils, and other electrically conductive elements to insulate and protect them from adverse environmental conditions.

Strain Reliefs

Strain reliefs protect the lifeline of electrical products by absorbing the forces of push and pull that may be exerted on the flexible wires, cables, or tubing.