Hydraulic Regulators Information

Show all Hydraulic Regulators Manufacturers
Image Credit" Barksdale | Co-ax valves | Tescom - Emerson Process Management
Hydraulic regulators maintain the output pressure of a hydraulic system at a set value, minimizing fluctuations in a pressurized line.
A hydraulic regulator is typically made of steel, coated steel, or stainless steel and comes with a variety of connections. Hydraulic regulators are designed to hold a tight seal even as the pressure in the line rises. The devices may be used in land-based applications or may be specially designed to work underwater.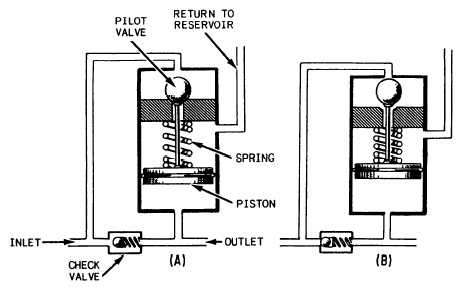 Image Credit: Enginemechanics.tpub.com
Applications
Hydraulic regulators are used by natural gas and oil producers and refiners to ensure the safe transport of oil or gas over long distances. It is particularly important to regulate pressure in these applications. A pressure regulator is also used in manufacturing applications to regulate steam and process gases, as well as laboratory applications and to monitor the high-purity pressure needed for the production of semiconductors.
Pressure reducers are also used to regulate the flow of gases such as propane, butane, and refrigerants. A pressure reducing regulator may operate as a single stage or dual stage device and can be designed to be fitted with other components such as gauges, cylinder connectors, hoses, and relief and shut-off valves.
Some hydraulic regulators function as a pressure reducing valve, which reduces the high inlet pressure to ensure a consistent lower outlet pressure. There are many different types of pressure reducing valves, but they usually fall into two categories: direct acting or pilot-operated.

Steam Driven Regulators
Manufacturers use steam to drive mechanical processes and use hydraulic regulators to control the flow and pressure in the system. A steam pressure reducing valve is pre-set to a specific value and regulates the steam pressure downstream from the valve. Steam boilers must work at very high pressures, so steam pressure hydraulic regulators are necessary for creating a workable pressure in the system. A high pressure regulator allows the boiler to operate at a high pressure for efficient production of steam while ensuring that when the steam reaches the other devices connected to the system, the steam is at a safe operating pressure.
Standards
Hydraulic regulators must follow certain standards and specifications to ensure proper design and functionality. Additional specifications can be found at the IHS standards store.
DOD-STD-35-100

: Regulator and nonpowered valve (hydraulic, pneumatic, and vacuum) automated engineering document preparation system.