Spray Shields Information

Show all Spray Shields Manufacturers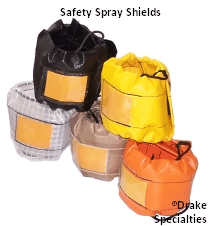 Spray shields protect workers and sensitive equipment from leaking flanges and pipe joints. Applications exist for multiple industries, but particularly in the process industries where the primary material is toxic, corrosive, and includes dangerous liquids such as acid, oil, or steam. They are also known as safety shields, flange wraps, and flange guards.
Operation

The primary function of spray shields is to prevent and reduce damage and injury to workers, equipment, and property by temporarily acting as a barrier containing hazardous leaks and sprays. Early leak detection helps reduce maintenance costs by preventing downtime from failures or recordable accidents.
Configuration

When determining which spray shield to select one should use the matching method. The material of the shield is matched to the piping system that is being used. Spray shields come in multiple materials: steel, stainless steel, thermoplastics such as polyethylene (PE), polyvinyl chloride (PVC), polypropylene, tetrafluoroethylene, fiberglass and ECTFE.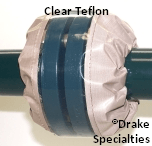 Safety shields are manufactured for pipe connections such as:
Flanges
Valves
Couplings
Unions
Expansion Joints
Elbows
Tees
Clamps
Pumps
Heat Exchangers
Pressure Vessels
Flow Meters
Customized Connections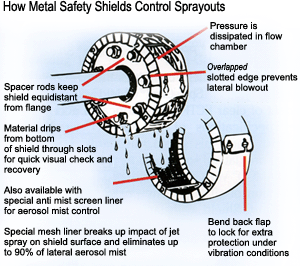 Standards
ASTM F1138 - Standard specification for spray shields for mechanical joints
References
http://www.corrosionfluid.com/ramco-safety-spray-shields-flanges-valves-guards-covers.aspx#metal
http://www.drakespec.com/safety-spray-shields
Image credits: