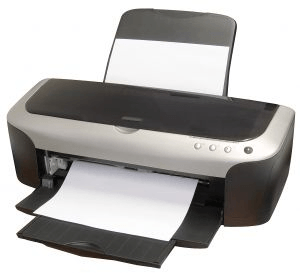 Image Credit: Digi-Key Corporation|TES Electrical Electronic Corp.|Compuworld
Computer printers and plotters are used to output industrial data in printed form. In terms of applications, some computer printers and plotters are used in computer-aided design (CAD), geographical information system (GIS) mapping, or point-of-sale (POS) systems. Other computer printers and plotters are used to produce bar codes, labels, forms, receipts, mail pieces (envelopes), checks, financial documents, or identification cards (ID cards).
Types of Computer Printers and Plotters
There are several different types of products.
Direct thermal printers use heat to set sharp, crisp images on non-curling, smudge-proof, heavy-stock thermal paper.
Thermal transfer printers use heat and pressure to transfer resin-based ink from tiny ribbons directly onto the paper.
Ink jet printers spray droplets of ink through a nozzle onto the page.
Laser printers use a laser beam to produce an image on a drum. The light of the laser alters the electrical charge of the drum, which is rolled through a reservoir of toner. Through a combination of heat and pressure, the toner is then transferred to the paper.
Liquid crystal display (LCD) and light emitting diode (LED) devices are similar to laser printers, but use LCDs or LEDs to produce an image on the drum.
Dot matrix printers strike pins against an ink ribbon to print closely-spaced dots, often with multi-page forms.
Line printers use the same technology as dot matrix devices, but are much faster for greater workloads.
Other unlisted, specialized, or proprietary computer printers and plotters are also available.
Specifications
Specifications for computer printers and plotters include:
Mounting Options
There are four basic mounting styles: panel-mounted, rack-mounted, stand-alone, and portable or handheld.
Media Handing Style
Choices for media handling style include single-sheet, fan-fold, and roll. Often, computer printers and plotters that output single sheets of paper have several trays for different paper sizes. Printing and plotting equipment that is designed for fan-fold paper is designed to prints on paper made from a web and folded lengthwise or crosswise like a fan.
Resolution
Resolution and printing width are important performance specifications to consider when selecting computer printers and plotters. Printer resolution is usually measured in dots per inch (dpi). As a rule, more dpi means a higher resolution.
Printing Width
Printing width, another important parameter, measures the width of the characters produced by the printer, not the width of the print media.
Interface
Computer printers and plotters differ in terms of interface, memory, and applications. There are four major interface styles: serial, parallel, ethernet, and universal serial bus (USB).
Memory
Choices for memory include: random access memory (RAM); Flash memory; and erasable, programmable read-only memory (EPROM).
Features
Features for computer printers and plotters include user controls, indicators, application software, cutters, and metal housing.
Standards
AIIM TR29 - ELECTRONIC IMAGING OUTPUT PRINTERS
GOST 19098
- PLOTTERS FOR ELECTRONIC COMPUTERS. GENERAL SPECIFICATIONS
---
Related Products & Services