Enterprise Asset Management Software (EAM) Information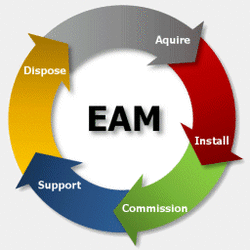 Enterprise asset manager (EAM) software is an IT solution that manages the lifecycle of physical assets for a company. EAM programs have evolved from maintenance scheduling solutions to encompass both routine asset management and value optimization.
Operation
The program records upgrade, maintenance, decommissioning, or replacement requirements. It is most relevant in capital intensive organizations and industries that seek to maximize returns from complex and expensive assets, including power plants, offshore drilling platforms, aircraft, and manufacturing facilities. The package incorporates computer systems and databases to improve equipment availability while enhancing its performance from an operational and financial standpoint.
Further benefits include:
An enterprise-level overview of multiple businesses, sites, or machines through a single software solution
Proactive planning of maintenance activities to reduce downtime
Eases administrative workload by automating requisitions, purchase orders, and quotation requests and keeps contract and invoice records
Enhances regulatory compliance procedures
Bolsters productivity by improving equipment data analysis
Consolidates reporting by integrating single asset financial data with that of the overall enterprise
Improves warranty cost recovery
Provides power consumption data for energy reduction analysis
The EAM program maximizes the return on investment of a company's assets by ensuring they are optimally maintained and used. This necessitates full lifecycle management of the resources in question. A comprehensive asset management program using EAM includes the following processes.
Design integrity: The task defines a clear purpose for a resource and the context it is expected to work in. This will drive all future decisions related to the resource. Reliability engineering is applied at this stage to determine potential failure scenarios and upkeep issues. Analyzing weaknesses helps develop a program that maximizes asset life and reliability. The task is sometimes called RAM (Reliability, availability, and maintainability). It has been used in industries where safety considerations are essential, such as nuclear power plants, aerospace, oil and gas, as well as petrochemical industries.
Technical integrity and process safety management: Procedures that reduce the likelihood of workplace accidents and assists in emergencies. Evaluating technical integrity involves gauging an asset's physical condition as well as its ability to operate under stress or emergency conditions; this includes training employees. Such programs help lessen the dangers of a malfunction or systemic event.
Technical integrity programs comprise three key elements:
Systems: Refers to the design considerations taken in an asset's construction, including adherence to relevant codes and regulations, safety, reliability, and maintenance requirements.
People: Involves applicable training, skills, and compliance requirements for the personnel.
Processes: Comprises business operating guidelines and tasks performed to sustain technical resource integrity during operation.
Operating integrity: This aspect focuses on maximizing returns from an asset's operation by effectively utilizing it, including activities such as the following.
Capital project management
Operation assurance and maintenance
Computerized maintenance management systems (CMMS)
Work management
Planning and scheduling
Spare parts program
Metrics and performance improvement
Maintenance and reliability strategy
Features
A typical EAM package incorporates a multitude of features that depend on the solution's working capacity and targeted markets. Some features include:
Work order capability
Scheduling and calendar management
Warranty management
Parts and purchasing inventory management
Mobile wireless technology
Technician certification and training management
Zero client web technology
Barcode enabled
Real-time capture of labor metrics
Best practice workflows
ERP (enterprise resource planning) system integration capability

Standard reports with customization options
Applications
EAM software is frequently leveraged in these industries:
Nuclear
Commercial real estate
Healthcare
Public sector
Hospitality
Manufacturing
Utilities

Telecommunications
Selection
Lifecycle asset management: Some EAM packages offer tools to manage a resource over its full lifecycle, including the ability to track relevant outsourced activity. The PAS-55 asset management standard, promulgated by the British Standards Institute, requires this function. The program must provide interface options that allow outside engineering firms to comply with this standard.
Engineering support: With many firms outsourcing design and engineering activities, an EAM platform that tracks these tasks improves its ability to proactively manage a resource over its lifecycle. This enables a business to oversee all phases of an asset's lifespan, including the initial construction.
Project management: When dealing with complex resource management scenarios, the ability to control and itemize costs and other factors is critical. Integrating a project's finances and operations via EAM ensures all aspects of asset management are executed. Project level management facilitates monitoring expenses in all areas by assigning separate line items for each task.
Ease of use: Complex EAM platforms may encounter usability issues in a multi-user environment. While robust functionality is a valuable characteristic, the ability for employees, whether IT literate or otherwise, to operate the software with ease is critical. An interface that allows a user to pull up an operation's summary statistics without having to sort through voluminous unrelated data is particularly useful.
Image credit: