Plant Growth Chambers Information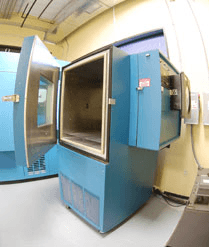 Plant growth chambers are designed to produce environmental conditions (humidity and temperature) that maximize plant growth. They are sometimes called environmental chambers or terrestrial plant growth chambers.
Applications
Applications include:
plant breeding and genetic research
photosynthesis
nutrition
other aspects of plant physiology
Features
Product features for plant growth chambers may include:
touch-screen controls
observation windows
additional lighting
humidity control
CO2 enrichment
spray nozzle packages
air-cooled condensing
remote-controlled condensing
dry alarms
cabinets and shelving
dimmable lighting
extended temperature ranges
heated or glass doors
Types
Most plant growth chambers are made of metal and covered in a white enamel finish. There are two basic models: reach-in and walk-in. Reach-in plant growth chambers or incubators are often used in research applications. They provide lighting for vascular plants and are used in plant pathology research, seed development, and many other applications. Reach-in plant growth chambers can have swinging, flip-open, or sliding doors. Some models have more than one chamber with the option of individual controls. These plant growth chambers are available in a variety of sizes to accommodate many different types of plants.
Walk-in plant growth chambers are also commonly available. They can be large enough to step in, or can be room-sized. Like reach-in plant chambers, walk-in products can provide light for vascular plants and are used in standard plant production. They are also suitable for plant pathology, agricultural research, bio-technology research, and seed germination and development applications. Plant chambers are used with a variety of commercial crops, including potatoes and soybeans, and have been used in a variety of experiments by the U.S. National Aeronautics and Space Administration (NASA).
Specifications
Plant growth chambers are available with downward air flow and upward airflow. Downward airflow in plant growth chambers comes through air diffusers at the top of the chamber's walls. Air-handling plenums provide a stable and uniform plant canopy temperature. Downward airflow plant growth chambers are ideal for growing plants in trays and pots. Upward airflow operated in conjunction with tapered air-handling plenums through the chamber floor. A constant combination of air volumes and velocities ensures a consistent environment. Plant growth chambers that use upward airflow are best for growing plants in pots or doing tissue culture work.
Related Information
CR4 Community—Spectrum 6400K Tube = Plant Growth Tube?
Electronics360—Veggies, Pot and LEDs
Engineering360—Improved Nitrogen Conversion Boosts Soybean Yield