Show all Laser Scanning Cytometers Manufacturers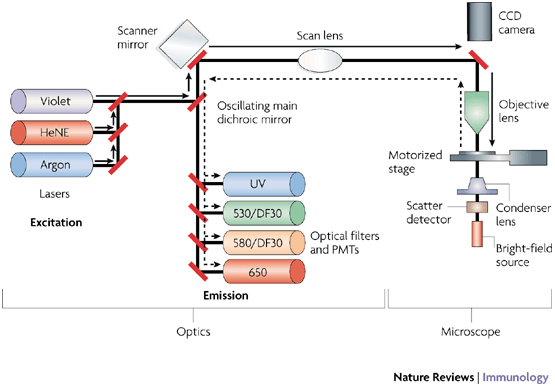 Laser scanning cytometers (LSCs) are biological instruments which automatically determine the biochemical components of cells, as well as their morphology and cellular location. Operators are provided an accurate conception of the cell for further research purposes. An LSC exposes the sample to several types of fluorescent laser wavelengths very rapidly (up to 5,000 cells/min), and uses cell feedback for analysis.
Samples for laser scanning cytometers do not need to be placed in a solution. This means that solid samples such as adherent cultured cells, tissue sections, cancer tissue imprints, and cytology smears can be scanned by the device. The sample is not degraded by this process, and its visualization can be immediately recalled by the operator. However, this emerging technology cannot measure cellular responses that occur within physiological tissue microenvironments.