Continuous Emissions Monitoring Systems (CEMS) Information

Show all Continuous Emissions Monitoring Systems (CEMS) Manufacturers
Continuous emissions monitoring systems (CEMS) are uses for the analyzation of pollutants within a stack environment. Environmental regulations require gaseous waste products to fall within a closely monitored range and these systems help operators remain in legal compliance. Central and regional government agencies withhold different standards regarding the implementation of emissions monitoring.
The most common type of CEMS is an extractive monitoring system. Components include a gas sampling instrument, filters, a gas analyzer, and temperature, flow, and opacity monitors which repeatedly withdraw a sample from the gas exhaust. Particle concentrations are determined and a data acquisition system initiates an alarm or process change so the pollutants can be restricted to an appropriate concentration range. Extractive systems are a comprehensive type of emissions monitoring, and they can be used to detect a variety of emissions.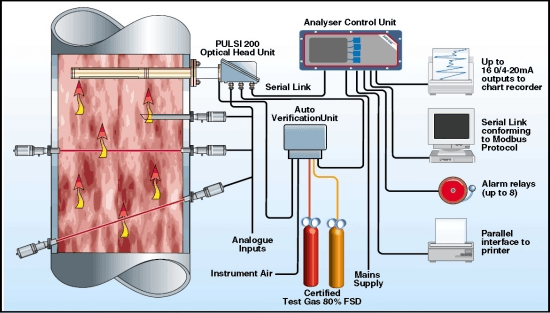 Image credit: Westwick-Farrow Pty Ltd.