Knurling Tools Information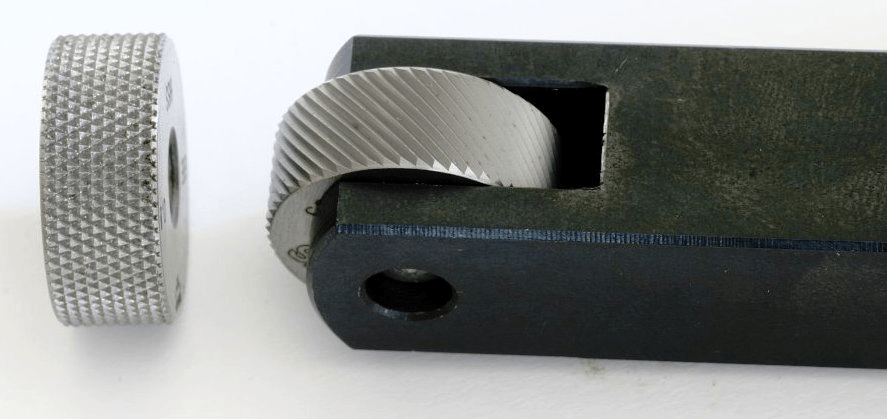 Knurling tools are used to impart a regular surface pattern on the outside of a part for gripping or aesthetic purposes. Often, the imparted pattern is diamond shaped or parallel. A knurling tool is a manufacturing and repairing tool used on lathe machines. A knurling tool is used to give the metal a criss-cross pattern shape, which helps the human hand to hold the knurled tool more firmly.
Features
Metal knurling becomes easy using knurling tools. A knurling tool can generate three different types of shapes:
straight lines
diamond patterns
diagonal lines
To generate a knurl pattern on a workpiece, a metal piece is held in a straight position on a lathe machine. When the lathe machine is switched on, a knurl holder is attached to the worktable. Knurl holders are used to hold knurling tools. Next, the knurling tool is moved forward toward the workpiece with a small crank.
Types
There are many types of knurling tools. Examples include:
internal knurling holders
convex knurl tools
conical knurl tools
An internal knurling holder tool is used for a boring bar style and can knurl up to a depth in the workpiece, which depends upon the toughness of the material to be knurled. A convex knurl tool is an axial feed knurling tool and is used for reducing a double tracking problem. A conical knurl tool is used in decorative purposes for generating radical face knurling or conical surfaces to the workpiece. Other knurling tools are commonly available.
Specifications
There are several ways in which knurling tools function. A knurl die center is placed close to the center of the workpiece. The pitch of the knurl die is set to be close to the pitch of the workpiece and then the lathe machine is switched on to give the desired shape to the workpiece. A knurling tool should have a diameter adjustment range of 1.25 to 2.50 inches. The in feed rate of a knurling tool should be in the range of 0.002 to 0.004 inches per revolution. Knurling tools are designed and manufactured to meet most industry specifications.
Applications
Knurling tools are used in many applications. Examples of usage include the automotive industry, aerospace industry, and mechanical labs in institutions. In addition, knurling tools are also used for making barbell bars, control knobs, and mechanical pencils. Knurling tools should adhere to the International Standards Organization (ISO) and the American National Standards Institute (ANSI) standards.
Related Information
CR4 Community—Drilling and Tapping of Brass/Bronze
CR4 Community—Fix for Oversized Bores
Engineering360—Tool Posts Information
Image credit:
Florian Schott / CC BY-SA 4.0