Show all Tube End Form Tooling Manufacturers
Tube End Form Tooling
Tube end form tooling is made for tube end forming machines to perform various operations on the end of a tube from simple flares and beads to complex geometries.
Tube End Styles
There are several styles of tube ends available including end reduction, cutting, end expansion, flanging, chamfering, roll beading, flaring, facing and notching.
End reduction

End expansion

Flanging

Chamfering

Roll beading

Flaring

Facing

Notching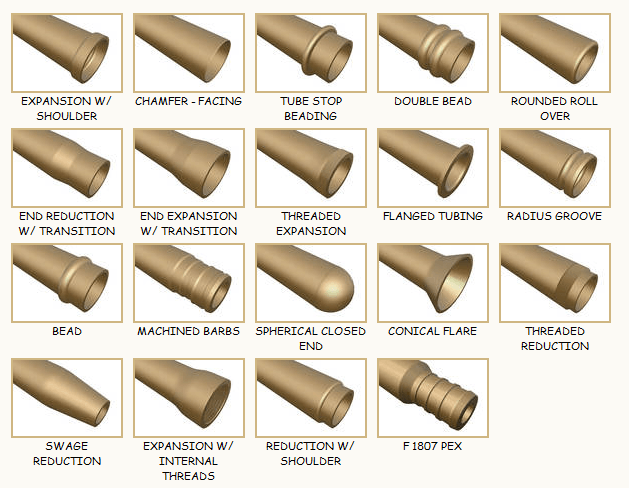 Tube End Forms Image Credit: H &H Tube
Methods and Tooling
Several methods are employed by tube end forming machines, including ram forming, segmented end forming, rotary forming, and internal roll forming.
The ram forming process, also referred to as bulldozing, uses one or more form tools, or punches, that are rammed over the end of the tube that is held in place by clamp blocks. Tooling for ram type end forming includes,

Clamp blocks

A punch

A shuttle block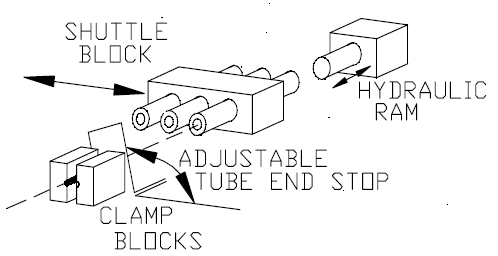 Ram forming process. Image Credit: Wauseon Machine and Manufacturing
Ram tube forming process. Video Credit: Proto1manufacturing
Segmented end forming is used to reduce or expand the end of a tube. Unlike ram forming, segmented tube forming does not require clamping of the tube. The most common application of segmented end forming is when one tube slips into the end of another tube. Tooling for segmented end forming machines includes:

Closing dies for reducing the tube diameter

Internal dies (referred to as expanding fingers) for expanding the tube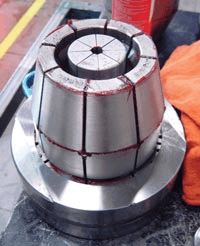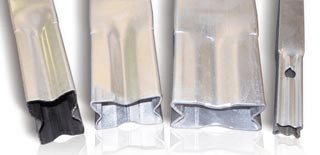 Segmented end forming tooling. Tube ends formed by segmented tooling.
Image Credit: Thefabricator.com
The rotary forming process is typically used to produce flared ends on tubes and hose beads.
Rotary forming process. Image Credit: Custom Tube Products
The internal roll forming process has slower cycle times than ram forming, but can produce tighter tolerances. Tooling for internal roll forming includes,

Serrated clamp jaws hold the tubing in place while axial pressure is applied to the end of the tube.
Resources
Selecting a tube end forming method