Shearing Machines (sheet metal) Information
Shearing machines and shearing machinery are multipurpose devices used in the cutting of alloys and other sheet metal. They use a shearing or scissor-like action to cut metal into sheets or strips. The operation of a shearing machine is similar to that of a rotary lawn mower. Industries that use shearing machines include steel furniture industries, refrigeration, doorframe manufacturers, automobile industries, and control panel manufacturers.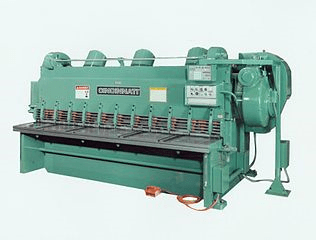 Types of Shearing Machines (sheet metal)
Types of shearing machines include hydraulic, conventional, mechanical, cut-to-length line, and plastic devices. Hydraulic shears are used in sheet metal applications for metal shearing at different lengths and at above nominal capacity. Typically, the shearing is powered hydraulically for smooth and silent cutting operations. Operations are performed continuously. Electric shears are suitable for demanding applications that require power shearing. Often, electric shears and shearing equipment are used in metal cutters. Battery-powered electric shears can reduce hand labor and operate for several hours using rechargeable batteries. Electric shears are also suitable for use in industrial maintenance departments and structural fabrication shops.
Sheet metal shearing machines are used to build roofs, siding, rain gutters, and downspouts. These shearing machines are used with customized precision equipment and many other products made from sheet metal. Air shears or air metal shears may have an aluminum trigger and ball bearing mounted motor for smooth operation. Materials of construction, cutting capacity, pipe thread type, and inlet size are important specifications to consider when selecting shearing products.
Maintenance
Shearing machines (sheet metal) require periodic maintenance. Shear sharpening must be performed on a regular basis so that shears do not yield poor quality cuts. In addition, the proper equipment must be used for shear sharpening. With shear blades, the angle of the cutting edge and the finish of the grind are important factors in determining shear performance and longevity. Some suppliers of shears and shearing equipment may provide a maintenance schedule, or recommend the use of specific types of products and materials.
Image credit:
Cincinnati Inc. / CC by SA 4.0