Strapping and Filament Tapes Information

Show all Strapping and Filament Tapes Manufacturers
Strapping or filament tape is a versatile, pressure-sensitive material that allows the user to bundle similar or oddly-shaped items together for shipping, to reinforce package and carton closures, to unitize and seal packages, and to secure loose parts during shipment. Additional applications of filament tape beyond packaging include metal coil tabbing, residue-free temporary holding of components in an assembly (appliances), and splicing of belting. Strapping or filament tape was invented in 1946 by Cyrus W. Bemmels, a scientist working for Johnson and Johnson.
Strapping and Filament Tape Operation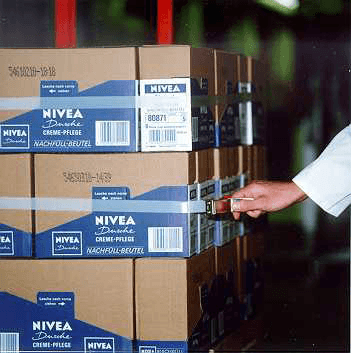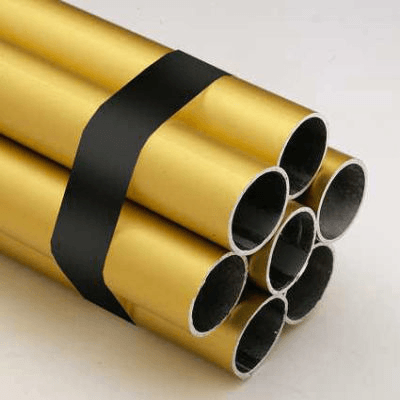 Image Credit: Tesa
Strapping and filament tape is widely available at most types of department stores, hardware stores, and some drugstores. It comes on a cardboard roll and typically is used with a plastic holder inserted into the roll. The plastic holder generally houses a serrated metal cutter to cut the tape. Due to the filaments, the tape is unable to be torn laterally, necessitating a cutting device to remove it from the roll.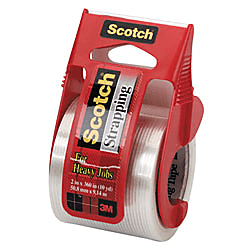 Image Credit: Office Depot
Strapping and Filament Tape Applications
Filament tape has filaments (usually fiberglass) embedded into the adhesive for extra strength. Glass filaments reinforce the tape to give it high tensile strength. Filament tape is stronger than twine or glue closures. It is also an economical alternative to plastic or metal strapping and is as efficient at holding items together. Because of the filaments reinforcing the tape, it produces superior results in palletizing and bundling items for heavy loads. Filament tape is highly resistant to tears, scuffing, abrasion, and nicks. Bi-drectional filaments tapes are also split-resistant unlike mono-directional filament tapes.
Also called monofilament tape, another use for filament tape is in moving furniture that contains moveable parts such as plastic trays in refrigerators so that there is no damage to these parts during transit. This tape does not leave any adhesive glue marks, so the end user of the product or appliance can simply remove the tape and use the item without having to remove adhesive residue.
Polyester reinforcing filament tape can be used in specialty applications for appliances, office furniture, as vapor seals and similar applications.
Strapping and Filament Tape Specifications
A variety of filament tape grades are available. Tensile strength grades range from 100 lb. to 600 lb. per inch of width. Different types and grades of adhesive are also available.
Sometimes filament tape is made with cotton or synthetic filaments. Filament tape backing can be made from clear plastic or brown paper with the filaments usually running lengthwise down the tape, giving it strength. Sometimes the filaments run multi-directionally through the tape.
Strapping tape is also available without filaments. It is a heavy-duty polypropylene tape with the same intended use as filament tape. Strapping tape without filaments can be stretched (some up to 35%) without breaking, yet returns to its original shape and size to hold loads securely. It has a strong rubber adhesive backing and removes cleanly from applied surfaces.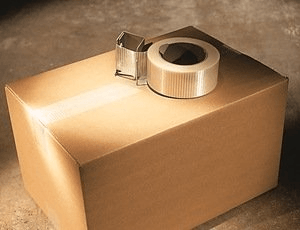 Image Credit: Amazon.com
Materials of Strapping and Filament Tapes
Backing Options:
| | |
| --- | --- |
| Glass / Fiberglass | Tape and film products are reinforced with fiberglass, fiberglass composite material, or a glass layer. |
| Filament | Filament is generically referred to as strapping tape. Filament tape draws its strength from thousands of individual filaments woven into yarns that are embedded in adhesive on the tape's backing. |
| Fluoropolymer | Fluoropolymer films, layers, or coatings consist of plastics such as polytetrafluoroethylene (PTFE) or polyvinylidene fluoride (PVDF). Fluoropolymer coatings are used in applications that require superior chemical resistance, good dielectric properties, and water and stain repellent characteristics. Fluoropolymers are also used in applications where the material handled must not stick to the belt, fabric, or laminate. Polytetrafluoroethylene (PTFE) is an insoluble compound that exhibits a high degree of chemical resistance and a low coefficient of friction. It is sometimes marketed in proprietary classes of materials such as Teflon®, a registered trademark of DuPont Dow Elastomers. |
| Paper | Paper or flatback products have a paper backing. |
| PET /Polyester | Polyethylene teraphthalate (PET / polyester) products use a PET or polyester backing in the form of tape, film, or laminate. |
| Plastic /Polymer | Plastic products incorporate one or more plastic layers, or consist of plastic film or sheets. This film can be clear or colored, printed or plain, single-layered or multilayered, and combined with materials such as aluminum and paper. There are two general categories of plastics: thermoplastics and thermosets. |
Adhesive options:
| | |
| --- | --- |
| None / Non-adhesive | Non-adhesive tapes, films or laminates do not have an applied adhesive, but may be self-adhering. PTFE thread-sealing tape is a type of non-adhesive tape. |
| Acrylic | Acrylic adhesives provide excellent environmental resistance and faster setting times than other resin systems. |
| Pressure Sensitive (PSA) | Pressure sensitive adhesives (PSAs) or contact adhesives are aggressively and permanently tacky at room temperature in dry (solvent free) form. They adhere firmly to a variety of dissimilar surfaces upon contact, requiring only the application of finger or hand pressure. PSAs do not require water, solvent, or heat activation in order to exert a strong adhesive force on materials such as paper, plastic, glass, wood, cement, and metal. PSAs have a sufficiently cohesive holding and elastic nature so that despite their aggressive tackiness, they can be manipulated by hand and removed from smooth surfaces without leaving a residue. In terms of general trade usage, leading tape manufacturers do not sanction the extension of the term "pressure sensitive" to include tapes and adhesives just because they are sticky (e.g., fly-paper) or just because they adhere or cohere. |
| Rubber | Rubber-based adhesives provide highly flexible bonds and are usually based on butadiene-styrene, butyl, polyisobutylene, or nitrile compounds. |
Strapping and Filament Tape Standards
The following industrial standards may be helpful when considering strapping tapes.
Resources: