Lifting Jacks Information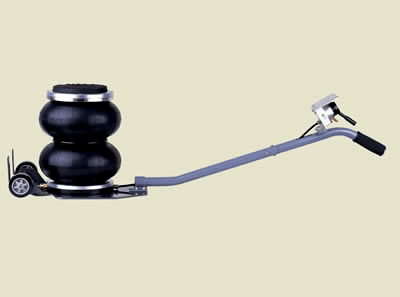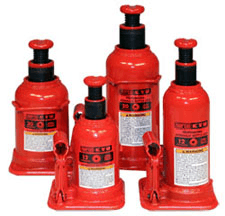 Image Credit: Venture Mfg. Co.|Zhuhai Greatway Automobile Equipment|Norco Lifting Equipment
Lifting jacks are used for leveling or positioning heavy equipment, or for supporting structures. They use screw or cylinder-based actuators and are powered by hydraulic, mechanical, electric, or manual methods. Typically, the lifting element is described as either a shoe or a saddle.
Types of Lifting Jacks
Many different types of lifting jacks are available.
Bottle jacks use a hydraulic cylinder for lifting and are often hand-pumped. The workpiece is engaged and lifted by a saddle at the end of the cylinder.

Inflatable jacks involve a bag that is placed under the workpiece and inflated.

Ratchet jacks have a manual crank and ratchet-and-pawl design.

Scissor jacks use linked, folding support members that are drawn together.

Screw Jacks are devices which use the mechanical advantage of threads to lift the workpiece. Jacking may involve spinning a nut to drive a screw or worm gear drive. Most screw jacks fall into one of two categories:

Ball screw jacks use recirculating ball bearings on a precision pitch screw for fast, efficient lifting. They require relatively little drive effort.

Machine screw jacks use screws with less pitch, and usually do not have ball bearings. They are somewhat less efficient and require more effort than ball screw jacks; however, they can better resist back driving and vibration than other types of lifting jacks.

Service jacks or floor jacks are designed to get under loads such as vehicles. They often have a relatively long reach.

Toe jacks use a lift toe or are shoe-mounted to stay near the floor in the retracted position. They can fit under a workpiece with little ground clearance.

Transmission jacks are designed for lifting, removing, and installing transmissions or engines from vehicles. These lifting jacks usually have several saddles or lift points and a wide base for stability.
Specifications
There are several product specifications to consider for lifting jacks.
Lift capacity is the maximum lift force.

Lift stroke is the difference between the fully-retracted and full-extended positions of the lifting jack.

Minimum height is the distance from the jack base to the lifting element in the fully-retracted position.

Maximum height is the distance from the jack base to the lifting element in the fully-extended position.
Standards
BS EN 1494 - MOBILE OR MOVABLE JACKS AND ASSOCIATED LIFTING EQUIPMENT